Jamestown Man Arrested In Drug Bust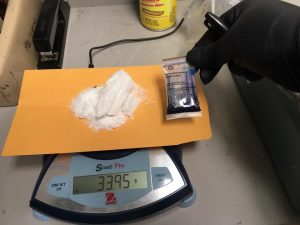 Meth found

View Photos
Jamestown, CA – A several month long narcotics investigation hit pay dirt after a search of a Jamestown man's home uncovers drugs, guns and a child in the house.
The Tuolumne County Sheriff's Narcotics Team carried out the raid at a home in the 18000 block of Vista Drive on Thursday. Inside the house detectives found nearly 34 grams of methamphetamine and 106 grams of marijuana. Other items discovered were related to the sale and use of the drugs, firearms, ammunition and $2028 in cash.
Arrested was 52-year-old Dwayne Rasler who is the owner of the home and a prior convicted felon. Living in the home were other family members including an 8-year-old girl that sheriff's officials say had access to the drugs, needles and guns.
Rasler was booked into the Tuolumne County Jail for possession for sale of  controlled substances, a felon having a firearm and ammunition and felony child endangerment. The investigation remains ongoing.