SHS Board Hears Complaints About Fiscal Recovery Plan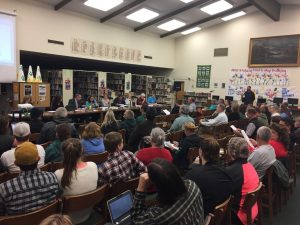 Fiscal Recovery Plan Discussed At SHS Board of Trustees meeting

View Photos
Sonora, CA — Calling it a "working document," the Sonora High School Board of Trustees approved a general blueprint Tuesday night for cutting a three-year structural deficit of $1.7-million.
We reported earlier that it includes cuts equaling 5.8 full-time equivalent positions. While giving an overview of the plan, Superintendent Pat Chabot indicated that it will likely result in the same electives and career technology courses being offered in the years to come, but fewer sections. The number of total credits from electives needed to graduate would drop from the current 70 down to 50. In addition, the overall number of credits required to graduate from Sonora High would go from the current 230 down to 210.
Around a dozen people raised concerns about the plan. They ranged from not having specifics about what positions would be cut/reduced…to opinions that administration needs to take more of the brunt.
Chabot noted that he would take the equivalent of five furlough days during the first year and 10 the following year. Some argued that Chabot and the board have "mismanaged funds." Somewhat coming to Chabot's defense, another person added that he was given a "pile of manure" when the last Superintendent (Mike McCoy) left. Others pointed to the controversial aquatics center and the ongoing maintenance costs it will create as being a major problem. In the end, no one in the audience appeared happy.
Several also angrily pointed the finger at the board of trustees for not identifying the problem earlier. Board President Kathy Ankrom said she understands why people are upset and encouraged more individuals to get involved in the process. She said she wished that "10 other people" had run against her during past elections, and said she only decided to file papers at the last minute, both times she ran, because others were not interested. Board member Rob Lyons also added that a 3% raise given to staff a couple of years ago contributed to the financial problems, when responding to a complaint that he was not sensitive to the importance of the teaching staff.
The specific reductions will be worked out over the next few months, as the result of labor negotiations, etc.,  and will be included in a document to be finalized in March. The recovery plan approved Tuesday evening will simply serve as the guide.
Board members collectively agreed that they had little choice but to pass the plan, which is due to Superintendent Margie Bulkin in two days. If they failed to act they faced the likelihood of the state stepping in and making the needed decisions.
You can read the plan by clicking here.