Man Wielding A Machete Arrested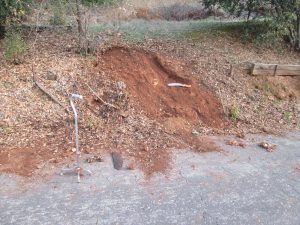 Robertson's cane and machete found at the scene in Jamestown

View Photos
Jamestown, CA – A Jamestown resident witnesses a strange scene as he saw a man wearing a headlamp while walking down a Jamestown alley holding a walking cane in one hand and in the other — a machete.
The man alerted Tuolumne County Sheriff's Department to an alley behind a residence on Golf Links Road just before 8 a.m. Tuesday.  When a deputy arrived on scene he recognized the suspect as 60-year-old Val Robertson, a transient, according to sheriff's officials.  A records check revealed Robertson is a registered sex offender and currently on Tuolumne County Probation.
During a search of Robertson, a knife was found in one of his pockets and a plastic container with white powder in his waistband. When the deputy questioned Robertson about the powder, he denied it was his and pulled away from the deputy. The two began to struggle prompting the resident that reported the incident to step in and helped the deputy take Robertson into custody. After the struggle, the citizen showed the deputy a bite mark on his arm. Sheriff's officials report Robertson admitted he bit the man because "the man respected cops."  The citizen refused medical attention and did not press charges against him.
While waiting for an ambulance, Robertson grabbed the plastic container and swallowed the nearly two grams of methamphetamine inside, according to sheriff's officials.  He was rushed to Sonora Regional Medical Center for treatment and observation.
Additionally, a credit card reported taken from an unlocked vehicle nearly a week ago was found in Robertson's wallet. Sheriff's officials confirmed the stolen card was used on several purchases.