Protecting The Cash Once Marijuana Becomes Legal In California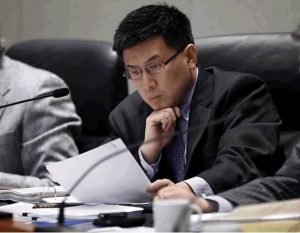 State Treasurer John Chiang

View Photos
Sacramento, CA — Concerned about discrepancies between state and federal law, California Treasurer John Chiang has created a "Cannabis Banking Working Group" to address the issue of banks and other financial institutions generally refusing to provide services to marijuana related businesses.
It is an issue that is coming to the forefront with the state's passage of Proposition 64 which legalizes marijuana for recreational use. However, the federal government still bans marijuana. The state ballot measure will allow individuals 21-and-older to possess up to an ounce of marijuana, and grow up to six plants at home.
Speaking by telephone this morning, Treasurer Chiang says, "The standoff between states and the federal government means a lot of businesses will be hauling around a lot of cash with no place to deposit their money, putting themselves at the risk of robbery."
He adds that preventing that money from entering the banking system could "exacerbate tendencies towards money laundering."
Chiang has put together a task force, of sort, that includes bankers, members of credit unions, taxing agency leaders, law enforcement officials and members of the cannabis industry itself.  He is also sending letters to President Elect Donald Trump, and members of California's Congressional delegation, asking for guidance and cooperation from the federal government.
Chiang concludes, "Participating in the nation's banking system is not, and should not be per se, an illegal activity."
A lot of money is expected to change hands when marijuana becomes legal in 2018. Proposition 64 imposes a 15% tax on the retail sale of cannabis. By taxing marijuana, Chiang estimates it will bring in around $1-billion in new revenue, annually. Proposition 64 does allow local jurisdictions to pass ordinances prohibiting the sale of marijuana. We reported previously that Tuolumne County is moving in that direction. However, counties cannot pass laws preventing residents from possessing up to an ounce or growing six plants.
Also of related note, we've reported recently about robberies at marijuana grows in Calaveras County. Click here to read an earlier story.