Concerns Grow Over Calaveras Marijuana Harvest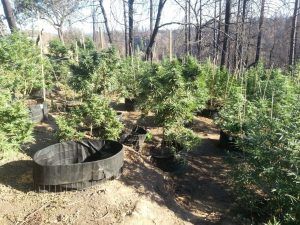 Part of a non-compliant six-acre Mountain Ranch marijuana grow just before eradication.

View Photos
San Andreas, CA — The fall marijuana crop coming in, mostly from out-of-compliance grows, has neighbors and growers uneasily looking over their shoulders.
Last week, as reported here, Calaveras County Sheriff Rick DiBasilio shared details relating to a long day spent in Mountain Ranch eradicating numerous cultivated plots on a six-plus-acre parcel that had been leased out by an absentee landlord. The owner had purchased the recently declared hazmat-free property within the Butte Fire footprint from a survivor who decided not to stay and rebuild there.
The sheriff currently estimates, between those seeking to be compliant and unregistered supposed medical marijuana grows, there may be 2,000 across the county this season. Still ramping up manpower in his department he says the CHP has agreed to do whatever it can to lend a hand while also being currently short-staffed.
Non-compliant Growers Hurting Themselves
Sheriff DiBasilio shakes his head at the state of most grows he has seen; laden with garbage and human waste because the properties lack proper disposal means and bathroom facilities. Not only that, security measures are also significantly lacking he laments. "These people don't have fencing up, which is part of the [urgency] ordinance [requirements]. They are using black plastic sheeting to keep people out of their grows. Heck, a pocketknife or a sharp razor will cut that stuff — and people can come in at the lower end of their grows and steal their plants."
Two weeks ago a robbery that occurred in a marijuana garden, reported here, has been tied to suspects with ties to the Fresno area, he recounts, adding that the case is under active investigation so no other details are available. He calls the incident the first of potentially many instances to come of people being ripped off as their plants become ripe for the picking, so to speak.
More than a little exasperated the sheriff remarks, "Growers in the area need to get into compliance and put their fencing up…it is going to be a deterrent…it's not so easy to get through a cyclone or wood fence as opposed to this material fencing they are putting up."
Some Marijuana Thefts Bound To Occur
Growers, too, need to be cognizant what is really at stake. "I understand that some of these plants are expensive but their life and others lives are not worth the plant," the sheriff emphasizes. "These plants so big — six to eight feet tall and five or six feet around — how far are [pot thieves] going to run with something that big and how many are they going to take at one time? Unfortunately, had they done the correct thing with putting up the correct, secure fencing —  they might not be having the issues that they are going to have. Again, it is a plant…I'd hate to see someone hurt over $3,000 to $4,000."
Providing a cautionary tale the sheriff refers to a triple homicide that occurred last October over pot thieves sneaking into a Railroad Flat grow, reported here. "A kid shot three people — and killed them — and now he is facing some homicide charges," he points out somberly. On the bright side, he maintains, his office is actively working on eradications and getting more paperwork in order to do more through the auspices of the Planning Dept. and the code compliance unit. "They are the ones collecting the information and having to match it up to the grows that are registered. They do the paperwork, take it to the planning commission." He adds that deputies backup the code enforcers to ensure that their onsite safety.
Deeply sympathetic to members of the community worried about harvest activities and their personal safety in their own neighborhoods, the sheriff grimaces as he offers this group advice. "I understand that people are afraid to come out of their houses and unfortunately — I hate to see that in our county, which is one of the reasons I don't think we should have commercial marijuana in our county."
Neighbors, Take Care
Continuing, he simply states, "Just leave those folks alone and try to stay away from them as best you can, I guess. I don't know what else to tell them. I understand they are in a very bad spot because …they want to be able utilize their community and the roadways and have their kids out playing in the front yard. Maybe for these next two months they might not want to do that. It's two months out of their lives. Hopefully, we can get a handle on this… as time progresses forward in to the wintertime when they stop doing the outdoor grows."
Sharing other unpopular news, the sheriff notes that the county's transient rate has gone up exponentially since harvest. "Growers are advertising for [marijuana] trimmers on Craig's List and so people are coming in and flopping… I am pretty observant and I hate to say that I am profiling…but you can tell people who are out walking the streets in downtown San Andreas as opposed to [transients] who are here to harvest marijuana. They are walking with backpacks, they have no shoes they are wearing flip flops. You see them walking up the highway…coming out of the valley area."
Further backing up his comments Sheriff DiBasilio confides, "When our officers do stop and talk to them they are from Sacramento, Stockton, Lodi, Fresno…all over the place. They are not from Calaveras County and they are only here…to process marijuana. That is one of the [registration-related] issues that I have with the urgency ordinance and Measure D…all the people working on these sites, we don't know who they are. They could be convicted felons and we have no idea. It is very uncomfortable to say the least."
Along with Trimmer Transients, Scammers Drawn To Calaveras
Homeless grow workers are becoming a presence in the downtown park, according to the sheriff. "We have people in the park hanging out with nowhere to go. If they are smoking marijuana and they have their 215 card there is not too much that I can do about it. You can't drink [alcohol] in a park but there are no signs that yet say you can't smoke marijuana."
Another source of building irritation for the sheriff's office and other local enforcement personnel is an uptick in marijuana grow-related scams. "We have had a few [growers] call and complain, stating that people are showing up…stating that they are part of the code compliance or the marijuana enforcement teams," he warns. So growers should be aware of that and make sure that they are seeing some type of ID so they  know they are talking to somebody from the county and not an impersonator.
The sheriff advises those who need to know that code compliance personnel wear a plainly visible tag around their neck and deputies in plainclothes, who may not be in a marked vehicle, will have a badge and a gun in plain sight as well as some ID or a business card available upon request.
Despite the numerous challenges Sheriff DiBasilio says firmly, "This year, we are going to do the best that we possibly can to keep everybody safe. I think next year will be better — if [the supervisors] continue with regulating commercial marijuana — and the year after that will be even better. I don't see it getting worse, let's put it that way. I see it getting better as we keep moving forward."