A Scary Crash Scene To Teach Readiness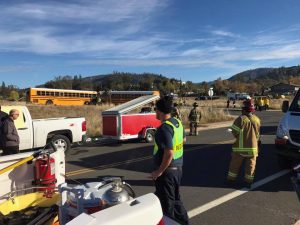 Emergency mass casualty drill in Tuolumne

View Photos
Tuolumne, CA — The Tuolumne County Health Department sponsored the event, which simulated a deadly bus crash on Tuolumne Road to prepare first responders and students in training for the real thing.
We alerted the public earlier this week to the multi-agency Statewide Medical Health exercise taking place across the state and locally at the Westside property near Summerville High School on Thursday. The scenario involved a school bus and a tour bus colliding creating mass casualties. Remarking that the drill went very well, Sonora High Fire Technology Instructor Mark Ferreira also praised the exercise for giving first responders hands on experience in dealing with a crisis. He emphasized, "Heaven forbid we did have a large scale incident with this many victims, our emergency medical systems would be at least practiced in something this size."
Drill organizers commented that incident command, rescue and medical triage were the main focus of the training. Ferreira says for the students the training is invaluable, explaining, "Some of our students aren't going to go to college and they need some hands on learning. This is a pathway for them to have a post high school career option. They were able to catch a glimpse of what they're being taught in school and seeing it out where the rubber meets the road."
The drill ran from 8 a.m. to about noon on Thursday.