Armed Shoplifter Arrested In Sonora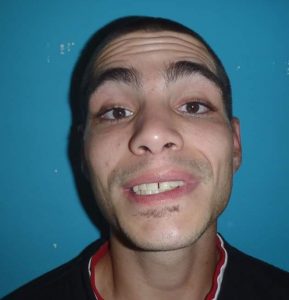 Edward Lee Jones

View Photos
Sonora, CA — The Sonora Police Department captured a shoplifter that allegedly made threats at the store before taking off running.
It happened Saturday at 1pm at the Sonora Walmart. The Police Department was notified that Walmart security took 25-year-old Edward Lee Jones into custody for shoplifting. However, as the PD was notified, Jones allegedly made threats of violence towards the staff, so he was released by the store.
A police officer then spotted Jones running through a parking lot at the nearby Starbucks and began chasing the suspect. The PD reports that Edwards threw a plastic bag on the ground (containing 5.1 grams of heroin and 3 grams of methamphetamine)  and also lifted his shirt and took out a switchblade knife.  The Police officer exited the vehicle and pointed his gun towards Jones. At this time, Jones threw the knife under a nearby vehicle. Jones stopped and was taken into custody by the officer. While placing under arrest, the officer learned that Jones also had a stun gun in his possession.
The PD reports that it was discovered that Jones is on parole for felony evading an officer. He also had an outstanding misdemeanor warrant for possession of drugs. Jones was transported to the Tuolumne County Jail where he was booked for felony possession of a concealed bladed weapon as well as misdemeanor; felon in possession of a stun gun, possession of a controlled substance, possession of a controlled narcotic, plus shoplifting.
We also reported in 2012 that Jones was involved in a high speed chase with the CHP and in 2014 that he was arrested on drug charges.