Update: Trafficking Horrors Reported At Criminal Marijuana Grow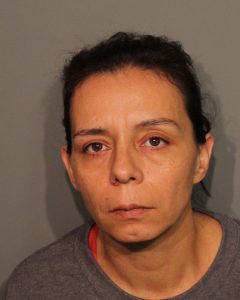 Guadalupe Serra Arrellano
San Andreas, CA — Today law officials, while describing a human trafficking, assault and terror case related to an eradicated grow, outlined a grim story of four Hispanic brothers; two led from Modesto to Calaveras County with the promise of work.
With a slideshow loop of evidence and other case photos playing in the background, Capt. Jim Macedo of the Calaveras County Sheriff′s Office led the presentation during an afternoon press conference in the Calaveras County Justice Center attended by the District Attorney′s office and FBI personnel.
He emphasized the brutality and extent of the injuries sustained while the four unidentified victims were incarcerated and forced to work, indicating it was a focus in the case prosecution. As he stitched a series of events together it became clear that, shortly after the four victims′ July 27 escape to freedom and eventual safe harbors where they would be treated for wounds sustained from severe beatings and other attacks, law enforcement officials conducted a raid of the remote criminal marijuana grow in West Point (reported here).
Destroyed Grow Estimated Between $18-$60 Million
Capt. Macedo stated that, in addition to destroying a crop of 23,000-plus plants with a street value $18 to $60 million, officials confiscated at least two weapons and abundant evidence reflecting the conditions the four victims were forced to endure.
Two Hispanic women with Modesto addresses who were arrested last Wednesday, as exclusively reported here, remain in the county jail with no bond, both charged with criminal cultivation of marijuana and possession of it for sale as well as human trafficking through force, fraud or coercion; kidnapping; battery with serious bodily injury; and willful threat to commit a crime with the intent to terrorize. At least two men, who allegedly served as armed guard-strongmen, inflicting the injuries, are being sought.
The Modesto women, Guadalupe Sierra Arrellano, 43, and Medarda Urbieta Estudillo, 34, were respectively arrested by the Yuba County Sheriff's Dept. and Immigration Customs Enforcement (ICE) before being transferred to the county jail. Today, officials said that both are apparently in the US illegally and operated under multiple aliases. While they stress that no firm connection has yet been made to any drug cartels, reportedly a mention of one has come up during the investigation and needs to be corroborated.
Capt. Macedo Shares Further Details
Case details describe that back in February two brothers initially made contact with the arrested women at a commercial business in Modesto known as a location for laborers to find work. Brought to West Point, supposedly to do landscaping at a nearby house, they were shortly afterwards forced into service at the grow site. The other two brothers who followed afterwards were lured with information that their loved ones were working on a marijuana grow and they could visit to check their well-being as long as they did not contact law enforcement. They were additionally threatened that their family members would be killed if law officials were called.
Capt. Macedo stated once at the West Point grow, "[The other two brothers] were confronted and threatened by armed individuals who were already at the home." He adds that while the second pair of brothers were reunited with their siblings they were forced to work in the marijuana grow site, and at the same time, family members in Modesto were being threatened by the group. What finally led the four to finally decide to make a break from their captivity was a stabbing injury that one suffered at the hands of one of the strongmen around when another allegedly overheard a conversation between Arrellano and male cohorts, indicating that the brothers could all be killed in time, but not until the harvest was through. (Click here for a video excerpt from the press conference.)
Among the evidence photos of items confiscated from the site are two guns, one of which was recovered from a backpack left by a Hispanic male who as able to flee the scene just ahead of the raid; $10,000 cash and and a small amount of ammunition. There were also several grow photos, including an image showing the tapping of an illegal water source. The captain implied that photos of several campsites and food storage indicate harsh squalid conditions and large-scale activities.
Other Takeaways From The Briefing
The multi-agency case, which involves several jurisdictions, continues. In addition to thanking all the law enforcement and other first response partners that have provided assistance, Capt. Macedo thanked those who have worked to treat and support the victims and their family members.
Following the conference, which about a dozen local residents attended, Clarke Broadcasting talked off the record with them and found universal concerns for public safety as well as environmental health. Most said they had grows adjacent to or near their properties and expressed fear for their own personal safety, either due to the grower activities or the threat of criminal activities possibly related to attempted robberies.
While all the residents queried were pro-ban for commercial grows, they ran the gambit from permanently outlawing them to readdressing the matter once the county has sufficient infrastructure and personnel in place to sufficiently regulate and enforce the industry.
Note: to view screen captures of evidence photo slideshow images shown at the press conference, click the link in the upper left image box.