Marijuana Eradication Season Heats Up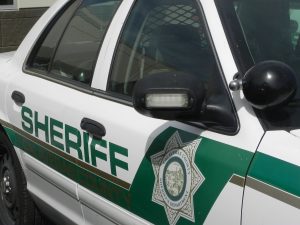 Calaveras County Sheriff

View Photos
San Andreas, CA – As officials predicted, cannabis enforcement activity is on the rise in the August heat ahead of what is still bound to be a bumper crop of legal and illicit marijuana come September harvest.
Calaveras County Sheriff's officials remain largely mum on details surrounding a search and destruction of a large grow in West Point, whose earlier wild west claim to fame was as a camp established by Kit Carson and a trading post where author Bret Harte also lived for a spell.
Tucked above Mountain Ranch, considered a hotbed for post-Butte Fire grows, Captain Jim Macedo recounts that as part of a multiagency effort deputies served a search warrant on a rugged, remote property located just outside of West Point and eradicated a little over 23,000 marijuana plants growing at a spot that has been known to historically be involved with that activity. He declined to discuss it further so as not to jeopardize the case.
'No Shots Fired'
"The investigation is still ongoing — and there were no shots fired — contrary to reports," Macedo explains wryly. He adds, "There was a helicopter involved primarily for safety and security reasons and we recovered a couple of firearms from the scene."
Macedo shares, "We have seen a significant increase in cultivation of marijuana…in people coming from outside of the county to cultivate here. The cases are taking a lot of manpower and resources and they are lengthy — they are not easy to investigate." Part of this, he says, is due to some of the language incorporated into the county's urgency ordinance passed this past spring, as well as a lack of clarity in existing federal, state and local laws. Unsurprising but sobering, he also emphasizes, "We are seeing a lot of firearms and a lot of reports of firearms."
Still ramping up resources for field enforcement and the internal cannabis registration background process that his department is handling inside of the office, Macedo admits that both processes have been time-consuming. "Unfortunately, it takes us a while to get people hired and we are obviously hiring people — and recently had one of our largest swearing-in ceremonies that we have ever had."
Still Pulling Together Resources
Matter-of-factly, the captain maintains, "We are trying to utilize intelligence, technology and other county departments to improve our efficiency. The problem lies though with just the sheer number of complaints, reports, cultivation sites and the difficulty and length of time it takes to investigate these kinds of cases." Largely, he states, "Not in this case for this last grow, but in other cases, a lot of the folks are claiming to be cultivating for one purpose and they are cultivating for another purpose and that is, again, just a lot of deception."
Although enforcement officials say they are beginning to get their arms around a greatly expanded role, the best way to describe the process is that it is still in its infancy and the various departments are now just beginning to take it on in earnest. "Some of [what] we are addressing…are obviously, the larger grows, the larger complaints…the ones that involve heightened levels of danger or threats to the public or personnel," Macedo points out.
In the meantime, while officials begin to work their ways back they remain largely involved with and are prioritizing the more significant grows. Macedo says activities will most certainly keep stepping up in the coming weeks. The sheriff's department encourages residents to share information concerning potentially illegal cannabis grows and related activities by calling a number set up specifically for the purpose at 209 754-6870.