Update: New Charges From Drunk Boating Accident At Lake Tulloch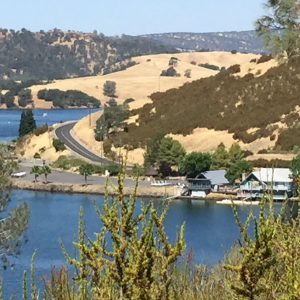 Lake Tulloch

View Photos
Update at 5:38 p.m.: While Calaveras County District Attorney Barbara Yook states that her office is not able to discuss pending cases, she shares a statement concerning enhancements against Dean Payne filed in the wake of a boating accident that left two women seriously injured.
Yook remarks, "As in all cases, the District Attorney's Office makes decisions on criminal charges and sentencing enhancements based on the evidence presented by law enforcement. Driving any vehicle under the influence poses extreme danger to life and we take these cases very seriously."
Her office specifies that Payne is facing a felony violation of Section 655(f) of the Harbors and Navigation Code of operating a vessel while under the influence of intoxicating liquor, a drug, or the combined influence of intoxicating liquor and drug and concurrently acting illegally and/or negligently in operating the vessel, thus causing bodily injury to the two victims.
The two enhancements Yook brought against Payne over the weekend read as follows: PC12022.7(b), as to each victim was alleged for inflicting great bodily injury upon the victims, which caused the victims to become comatose due to brain injury; and PC12022.7(a), as to each victim was alleged for inflicting great bodily injury upon the victims.
Original Post at 12:47 p.m.: San Andreas, CA – Enhanced charges have been brought against a local man involved in an alleged boating under the influence accident that critically injured two women.
Saturday morning, Dean Payne, 55, was re-arrested at his Copperopolis home on a warrant relating to the July 24 incident on Lake Tulloch, according to Calaveras County Sheriff Rick DiBasilio. He emphasizes that both victims, whose names have not been released, are still alive, although both remain in critical condition at trauma hospitals outside of the area.
As previously reported here, the collision occurred when Payne piloted his boat into the two women as they were riding in an inner tube being towed by another boat. The sheriff explains that Payne's arrest came as a result of enhancements on Payne's existing charges of BUI causing bodily injury.
As it stands, Payne's bail was increased to $105,000 and he was additionally charged under section 12022.7 parts A and B of the state penal code for inflicting great bodily injury in the commission of a felony.
Felony DUI with injury carries a sentence of two to four years in the state prison system with an additional and consecutive three-to-six years if any victim suffers great bodily injury as well as another year for each additional person who suffers the same.
If convicted under both of the new enhancements, Payne would ostensibly face an additional mandatory eight years in prison (three years for part A and five for part B).