Arrest Related To Copperopolis Inner Tube Accident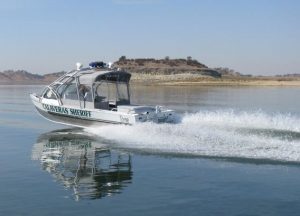 Calaveras Marine Safety Division

View Photos
Copperopolis, CA — A boating accident on Lake Tulloch required two victims to be transported via air ambulance.
The incident was reported at nearly 5pm on Sunday, July 24th and Calaveras County Marine Division responded. The accident occurred when a boat was pulling a water tube with two female riders and another boat struck the tube. The driver of the boat who struck the riders was later identified as Dean Payne, a 55 year-old from Copperopolis. Both victims were transported via air ambulance to an area hospital for treatment of unknown injuries. After the incident, Payne reportedly left the immediate area and was subsequently arrested for boating under the influence and fleeing the scene of an accident. His bail was set at $15,000.
The Calaveras Marine Safety Division is staffed year-round and patrols various lakes in Calaveras County as well as their connecting waterways.  With a population of over 46,000 in Calaveras County, and an increasing amount of tourist boating traffic, the summer boat patrol period is very busy with enforcement of the laws, investigation of accidents, and rescue operations.  During this time additional deputies, reserves, and extra hires can be utilized to augment the program.
The Calaveras County Sheriff's Office receives funding from the California Department of Boating and Waterways through the The Boating Safety and Enforcement (BS&E) Financial Aid Program.  The purpose of this program is to provide state financial aid to local governmental agencies whose waterways have high usage by transient boaters and an insufficient tax base to fully support a boating safety and enforcement program. The program is intended to augment existing local resources for boating safety and enforcement activities.