Search For New Mother Lode Fairgrounds CEO Begins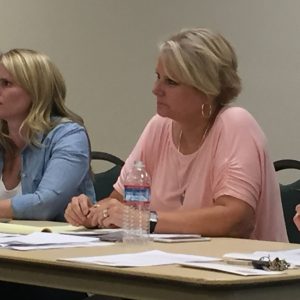 Exiting Mother Lode Fairground CEO Stacey Dodge (right) Board member Maren Paris
Sonora, CA — Tempers flared at Wednesday night's Mother Lode Fairgrounds Board meeting as it erupted with charges of lying, separate agendas, arrogance, dysfunction and a lack of leadership. Those harsh words came from supporters of exiting Fairgrounds CEO Stacey Dodge and were directed at the board's President Dan Brown and members, Jan Costa and Peggy Lee, along with calls for them to resign.
"It is sad to me that arrogance has exceeded intelligence in this matter and is standing in the way of progress," argued Tuolumne resident and member of the Mother Lode Fair's Livestock Auction Committee, Ron Hamilton. He went on to criticize, "This board, or should I say members of it, are ruining a program because members have failed to listen, have hidden agendas and they have forgotten about what is important – the community." He called Dodge a class act and went as far as to tell Dodge that "you do not deserve the crap that you've been shoveled in."
As previously reported, the controversy primarily stems from confrontations between Dodge and board members, Peggy Lee and Jan Costa, and accusations from both sides regarding poor money management and monkey business, which eventually led to Dodge and another staff member filing harassment complaints against Costa and Lee to the California Department of Human Resources.  Dodge resigned at the May board meeting amidst gasps from the crowd, while she tearfully stated that she did not want to be part of the problem.
Dodge's last day as CEO is Friday. At Wednesday's meeting, after thanking her supporters, she did not hold back, stating, "I resigned due to the lack of any kind of action taken from Jan Costa and Peggy Lee's slanderous and bullying behavior. She scolded, "I continue to be amazed at the lack of respect and interest our state agency and certain members of the fair board have given to this situation. I've given my heart to the fairgrounds and I truly pray for its success."  With regards to that, it was noted at the meeting that this year's fair earnings surpassed last years.
Members of the audience repeatedly called for the Board to ask Dodge to stay. In the crowd were Sonora Mayor Connie Williams, and Tuolumne County Supervisors Sherri Brennan and John Gray. Gray questioned the board as to whether Dodge's resignation had been officially accepted, which it was determined was not needed as Dodge had stated her resignation in public. Additionally, when questioned, Dodge acknowledged that she did not want the job if Brown, Lee and Costa remained on the board.
Things really got heated after a vote was taken to keep Dodge as the interim CEO ended in a tie, with board members Brown, Lee, Costa and Tom Miller voting no. There was no tie breaking vote as board member Marge Kiriluk was absent.  (Video of the discussion and vote can be viewed here.) Instead, an Ad Hoc committee, made up of board members Lee and Micki Rucker, will meet to come up with recommendations on hiring an interim CEO and report back at a newly scheduled Monday, August 8 meeting. It will be held at the fairgrounds beginning at 5:30 p.m. and limited to discussing that issue only, according to Brown. One name mentioned by audience members for the interim position was Forrest White, who has held the position in the past.  Meanwhile, Brown will be the liaison between the board and staff until Kiriluk returns and can be asked to take that position as several board members objected to Brown.  With regards to the fairground employees, board members Rucker and Albert Barreno made it a point to publicly ask them to stay on the job. Which when Clarke Broadcasting asked Office Manager Michelle Keefe her plans, she stated, "So far I'm staying because I love our fairgrounds and am very passionate about it." Board member Lee also told the crowd to keep coming to the meetings and input is welcome. She also indicated to Clarke Broadcasting now that this was settled she is "ready for the board to move forward." (Click here for video of Lee discussing the Interim CEO position)
Also of note, during the meeting President Brown and FFA Advisor from Summerville High School Rachel Castongia got into a heated exchange over why there was a need for a "House Rules For Board Conduct." Their sparing can be viewed here.