TUD Touts Results Of Its Annual Water Report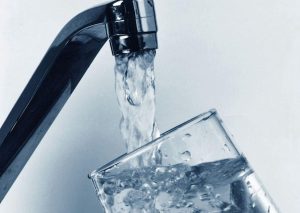 Water From The Faucet

View Photos
Tuolumne City, CA — Local water district officials say they are pleased indeed with its latest drinking water report, just out.
According to Tuolumne Utilities District Water Superintendent Trevor Crowden, the report, released Monday, covers all the water testing performed from January through December 2015. The district came through in compliance with federal and state standards and no red flag reports.
As for current challenges, Crowden confides, "With the drought and water conservation, age of water can become a problem over time in the system. What can occur is chlorine disinfection by-products…out there in the system, so what we try to do is get circulation going, better demand off of inter-ties through systems and that, in turn can turn over some of our 83 surface water storage tanks." He emphasizes, "That is a lot of volume of water that people just aren't using any more."
'Pink Stains' Not TUD's Fault 
The report, which Crowden describes as providing very thorough, surface water details for each TUD service area, contaminants tested for, as well as a good bit of helpful general information. For example, he says, "The pink stains that [customers] find in their bathroom fixtures is actually a bacteria that is kind of common in the home with dust and unclean [surfaces]. A lot of times we get those calls and it is a matter or not something in your water but something that creates at the surface. So [the report] contains [those kinds of] tidbits of information."
Asked for his thoughts on the report, which is the first published under his watch as Water Superindent, Crowden shrugs, "In my experience, TUD has kind of set the mark as far as our our regional area with the Merced State Water Board. We pride ourselves in that, and I have been with the district… for 13 years…I see the standard set, especially through my predecessors, so I look to uphold that. We have a great staff…and leave no stone unturned when there is a problem. Like with this disinfection by-product issue, we have some up with many creative solutions to mitigate the problem."
To peruse report findings, figures and other helpful tips on ways TUD customers may further improve water quality in their homes, click here. Crowden says he also welcomes customers' questions at 209 532-5536, ext. 554.