McClintock: Federal Declaration For Tree Mortality Very Unlikely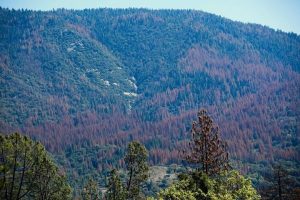 Aerial view of dead trees in the Pacific Northwest Region (California)

View Photos
Sonora, CA — It appears there will be no Presidential Disaster Declaration related to high tree mortality, according to the Mother Lode's Congressman.
Clarke Broadcasting caught up with Republican Representative Tom McClintock while he was in Yosemite National Park Saturday morning to hear the remarks of President Barack Obama at the Sentinel Bridge. Governor Jerry Brown issued a State of Emergency Declaration related to tree mortality, and local leaders in Tuolumne County had been hoping for a federal declaration, so that additional money would become available to identify and remove dead and dying trees.
Speaking about the issue, McClintock said, "We looked into that, and unfortunately the law doesn't allow it (federal declaration) as a preventative measure….which is nuts, but that's what we're dealing with."
Asked if the current rules could be changed, given the circumstances, the Congressman replied, "The problem is you then have all of the other national disaster regions saying, 'well, if you're going to do that, what about levy improvements in hurricane zones,' and things like that."
When it comes to his ideal solution, the Congressman noted, "There is one answer to tree mortality, and that's to properly manage federal forests like we used to do. But, unfortunately, we consigned them to a condition of benign neglect 40 years ago, with environmental regulations, promising to improve forest ecology."
McClintock shared that 85% of the Pine stock in the Sierra National Forest is now dead.
McClintock's District Four includes Yosemite National Park, the Mother Lode, and much of the Sierra Nevada region.