Honoring Service, Inspiring Others To Help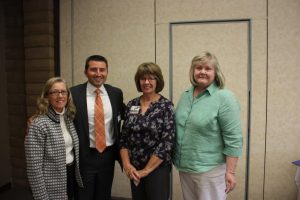 Recognized for 500 hours of service: Colleen Finnegan, Vonnie Hobbs and Ruth McIntyre with Andrew Jahn, President & CEO of Sonora Regional Medical Center

View Photos
Sonora, CA — Some of those recognized by the Sonora Regional Medical Center for lending a helping hand have been volunteering for three decades.
Recently the hospital held a luncheon and handed out awards to several volunteers for their significant contributions including filing from 100 to 25,000 hours of service; some who have been giving their time for the past 10 to 30 years. The latter is the achievement of volunteer Martha Cover who cheerfully offers, "You keep up your skills and learn new ones. It fills a social need – you meet and work with nice people, keep a schedule and connect with others. Truly, volunteering is a healthy habit."
The medical center has a real need for more people who would like to give their free time to help others. Applications are now being accepted for new members. So, if you have a few hours to spare per week, click here to fill out the form and submit it. You can also apply and ask questions about the work to any volunteer on duty at the medical center.