Supervisors Take Steps To Attract More Lifeguards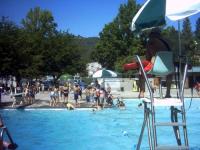 Swimming

View Photos
Sonora, CA — Citing concerns that there are not enough lifeguards to open all of the county's pools, action was taken this morning to attract more candidates.
The county voted to cover the $153 fee that incoming lifeguards need to pay for the training classes. In addition, the hourly pay is being increased from the current range of $10.33 – $12.61 per hour to a revised $13.59-$16.60 per hour. The county runs pools in Sonora, Columbia, Twain Harte and Tuolumne.
County officials had earlier noted that the fate of the Tuolumne pool was the most in jeopardy, however the waters became even murkier over the past couple of days. There were 12 additional lifeguard candidates that took part in a weekend training class, but only two were able to pass the initial round showing that they could adequately do the job.
CAO Craig Pedro stated this morning, "With that, losing ten of those candidates, we're looking at  right now having enough (lifeguards) for two pools, let alone three or four of our pools. This is unique ground, and we have not been here before."
District Three Supervisor Evan Royce was the most vocal in calling for the county to work on a solution and recruit additional lifeguards. He also requested that Tuolumne County Transit be involved in looking into creative ways to transport lifeguards to various pools.
Royce said, "I'll do everything in my power to  make sure that the pool (Tuolumne) opens. I'm extremely passionate about this issue."
Royce added that he's personally been standing outside the Tuolumne Market trying to recruit kids, and has been putting together a list of potential candidates.
To find more information about lifeguard opportunities, click here.