Historically High State Voter Registration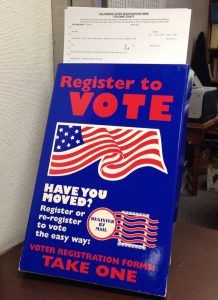 Register To Vote Sign

View Photos
Sacramento, CA — Californians including the Mother Lode are signing up to vote in significant numbers for the state's June 7 primary.
In the last 45 days before the May 23rd deadline, nearly 650,000 Californians registered to vote, marking the highest statewide voter registration before a primary election.  Tuolumne County Clerk and Auditor Controller Debi Bautista believes the spike is a combination of several factors including the unique candidates running for president, the fact that California's results can have an impact on the election, and there are a lot of younger voters getting involved in the process. She speculates, "With the ease of registering to vote online, especially with that generation, we've added more than a thousand voters between January and May 23rd." The actual total number is 1,244.
State Secretary Alex Padilla also pointed to the internet as key factor in garnering the registration of 17.9 million people, which is 72 percent of the eligible state's population.  Padilla indicates, "Part of this surge was fueled through social media, as Facebook sent a reminder to all California users to register to vote."
In terms of party preference, the Democratic Party, fueled by a tight race between Hillary Clinton and Bernie Sanders, gained about 500,000 new voters and comprise 45 percent of California voters. There were also gains for the Republican Party, which added 136,000 new members before the deadline, climbing to 27 percent of voters in California identifying themselves with the party. Another 23 percent or about 60,000 people registered without a party preference.
The Mother Lode bucks that trend. In Calaveras County with 76 percent of the population registered to vote, Democrats rank at just over 30 percent with Republican's at 43 percent. Tuolumne County's ratio of population to numbers registered to vote is lower at 71 percent but follows in the party breakdown giving Democrats 32 percent and Republicans more than 43 percent. (For a chart of all the parties preferences listed by counties, click here Voter registration by party preference.) Bautista specified, "We're across the spectrum. It's not just one party or the other. The American Independent, we've had a lot of people switch to that party where they thought that they were truly just independent but they didn't realize it was an actual party." She adds, "I think that people are involved in with this election like they've never been involved with other ones, on all sides of the spectrum. There happy or they're very unhappy and they want their voice to be heard."
California has added 761,000 voters since the 2012 presidential primary. Padilla notes, "It is clear that Californians are engaged and excited about this election. Now the next step is to turn out and vote!"