Expired Tags Netted Another Narcotics Bust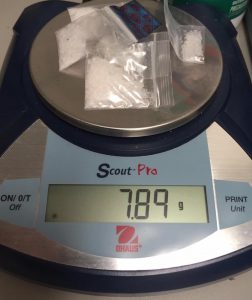 Mono Way drug bust

View Photos
Sonora, CA — A scale, baggies and grams of meth, are nabbed from a traffic stop carried out by a keen-eyed deputy who in just over a week, garners a second drug bust after spotting an expired plate.
The latest incident happened Friday around noon when Deputy James Riley noticed a 2000 Volkswagen Jetta on Mono Way at Fir Drive with expired registration tags and pulled it over.
During questioning passenger, 31-year-old Bonnie Palmer from Sonora admitted to having  methamphetamine. A search of the car revealed nearly 8 grams of meth, a scale and 77 individual baggies. The driver, Matthew Cliburn, 34, from Tuolumne, admitted to having the drugs in his car for three days with the intent to sell.
The pair was arrested and booked at the Tuolumne County Jail. They face charges of possession of a controlled substance, possession and transporting a controlled substance for sale, and conspiracy to commit a crime.  Cliburn received an additional charge of driving without a license. Both remain behind bars each on a $20,000 bail.
Riley was the same deputy that spotted a vehicle with expired tag last week.  As previously reported that traffic stop caught another passenger carrying nearly 34 grams of meth. More details on that bust can be found here.