Traffic Stop Nets Drug Bust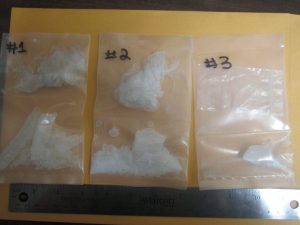 Drugs found on Peters

View Photos
Jamestown, CA – A Sonora woman was arrested after a traffic stop but she was not driving the car, instead deputies busted her for being high.
Tuolumne County Sheriff's officials report the incident happened just before midnight Tuesday, when deputies pulled over a 2005 blue Volkswagen Jetta for expired registration with two people inside. Deputies noticed the passenger, 45-year-old Arlene Rae Peters of Sonora, showing signs of being under the influence of a controlled substance. She was questioned and arrested.
Once at the Tuolumne County Jail, Peters admitted that she had drugs on her. She was searched and three bags of methamphetamine weighting a total of 33.85 grams were discovered.
Peters faces charges of being under the influence, transporting and possessing methamphetamine for sale, committing a felony while out on bail, and concealing evidence. She was able to post her $60,000 bail several hours later and was released from the jail.
This is the second time Peters has been stopped due to an expired registration tag on this vehicle. As previously reported, in February Peters and two others were arrested after a deputy pulled her over and a K-9 search of the same car uncovered meth.