Home Invasion Robbery Suspect ID'd In Police Line-up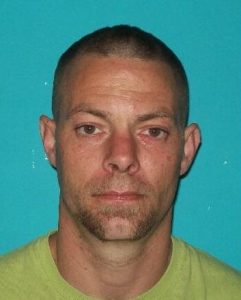 Sean Evans, TCSO Booking Photo, May 2016

View Photos
Sonora, CA — A man who allegedly brutalized and terrorized a house-sitter three weeks ago during a Jamestown home invasion is now behind bars in the Tuolumne County Jail.
On Monday, after releasing the weekend's custody reports, Tuolumne County Sheriff's spokesperson Sgt. Andrea Benson discussed the arrest, which came Friday around 3 p.m.
Sgt. Benson recounts, "Investigators were able to arrest Sean Evans, a Jamestown transient, in connection with the Campbells Flat home invasion…he was seen on the property twice in the days preceding the invasion and was identified by the victim in a photo lineup."
Sharing the rest of the currently available details Benson states, "Sean Evans was in possession of property from the victim when he was arrested. Currently being held at the county jail on a $75,000 bail [he] faces charges of battery with serious bodily injury; threatening crime with intent to terrorize; damaging a telephone or a power-line — and robbery in the first degree."
As previously reported here, in the early hours of April 29 the house-sitter woke up to the sounds of his dog barking and motion lights flashing. Opening the door, the sitter saw a man, wearing all black, who then asked for the homeowner by name.
When the house-sitter replied that the owner was not there, the man started punching the victim while pushing his way into the residence. At one point, he grabbed a wooden table chair in the home to continue the assault, which resulted in severe injuries to the victim's face and head.
Among the items stolen from the house was the victim's ID and cellphone, along with a social security card, debit card, and a small amount of marijuana. The suspect also damaged the landline to prevent the victim from calling 911. The victim only saw one person, but believed there could have been two involved. The suspect reportedly threatened the victim with death if the incident was reported. After walking to a neighboring residence the victim was taken to Sonora Regional Medical Center and treated for injuries that included possible facial fractures.