Kitchell's Frog Takes Top Honors At Calaveras Fair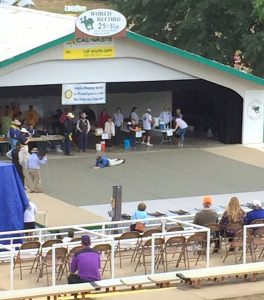 International Frog Jump
Angels Camp, CA — The top frog in this year's International Frog Jump at the Calaveras County Fair and Jumping Frog Jubilee hopped 20 ft., two and ¾ inches.
Morgan Kitchell's frog was the big winner on the main stage, and you can see the jump by clicking on the video box in the upper left hand story. The Kitchells are a local family that has had much success at the Frog Jump in past years. You can find out more about them by clicking here.
Morgan Kitchell's frog had just under the record breaking jump of 21 ft., 5 and ¾ inches set by Lee Giudici's frog "Rosie the Ribiter" in 1986. Members of the late Giudici's family were on hand during yesterday's festivities in honor of the 30th anniversary of the jump.
To read an earlier story about the fair festivities, click here.