California Senate Passes New Gun Regulations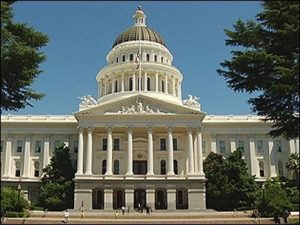 California Statehouse

View Photos
Sacramento, CA — The California Senate has approved a package of gun control regulations that are being praised by many Democrats and criticized by Republicans.
Notably, the bills would establish new rules related to the sale of ammunition and aim to crackdown on assault rifles.
The package would require background checks for ammunition purchasers and licenses for ammunition sellers. In addition, it redefines assault weapons to encompass specified guns capable of accepting any type of detachable magazine, prohibits magazines that hold more than 10 rounds, requires the reporting of a stolen gun within five days, limits infrequent lending of guns to specified family members and establishes a firearm violence research center within the University of California system.
The package is receiving mixed reviews. Senate Democratic Leader Kevin de Leon says, "Public safety is a fundamental responsibility of government and this Legislature will not shirk its responsibility, no matter how difficult the issue. These proposals take common sense steps to keep weapons and ammunition out of the hands of criminals and empower law enforcement to better serve and protect our communities."
Republican Senator Jean Fuller, counters that argument, saying, "These firearm bills are an attack against law-abiding citizens and their Second Amendment right rather than addressing the criminal activity and behavior that is taking place on our streets."
Republican Senator Ted Gaines adds, "California already has hundreds of the toughest gun laws in the nation and I can't imagine that adding ten more would solve any perceived problem, offer increased public safety or do anything other than unnecessarily burden the law abiding citizens who are already trying to do the right thing and exercise their rights."
The package now moves to the Assembly for debate.