Failure To Signal Triggers Arrest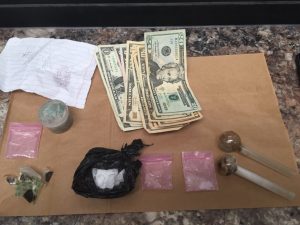 Drugs found

View Photos
Sonora, CA — A traffic stop led to the arrest of a man and woman after deputies found drugs on both of them and in the car.
A Tuolumne County Deputy spotted a 2000 Honda Civic around 11:30 p.m. Tuesday speeding along Camage Avenue, then turning onto Standard Road without signaling and pulled it over.  He questioned the driver, 38-year-old Stephanie Martinez of Jamestown about the violation and found her passenger, 45-year-old Rafael Godinez Jr. from Sonora, had a misdemeanor warrant for domestic violence.  As Godinez got out of the car, the deputy noticed a small bag of methamphetamine on his seat. Both were questioned and Martinez handed over two bags totaling 5 grams of methamphetamine, .35 grams of heroin, some marijuana and $84 in cash.
Both were arrested and face charges of possession and transportation of methamphetamine for sale, possession and transportation of heroin for sale, conspiracy to commit a crime, and possession of drug paraphernalia. Godinez has an additional misdemeanor domestic violence warrant. The pair remains behind bars with Godinez on a $37,500 and Martinez on $30,000 bail.