Update: Crash Closed Highway 108 Near Sonora, One Fatality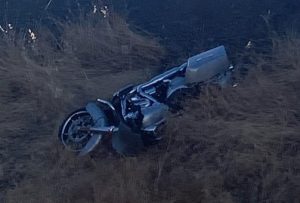 Motorcycle Crash on Highway 108 - Photo by Larry Martin

View Photo
Update at 6:10 p.m.: The CHP reports this morning's collision between a sedan and a motorcycle on Highway 108 in Sonora has turned deadly.
The victim is a 57-year-old female from Tuolumne. Her name is not being released pending notification of her family. She was riding a 2020 Harley Davidson Street Glide westbound on the highway's Mono Way onramp at around 7:30 a.m. Also heading in the same direction on the highway was 70-year-old Carlene Valdez of Jamestown in a 2019 Chevrolet Cruse.
The CHP reports that the motorcycle rider went to pass a big rig on the left side while entering the highway and collided with the car. The rider was ejected from the bike, which came to rest about 200 feet down an embankment.
The rider was transported to Memorial Medical Center, where she succumbed to her injuries. The CHP noted that the victim was not wearing a DOT-approved helmet at the time of the collision. They added that neither drugs nor alcohol were a factor in this crash.
Update at 9:30am and below written by BJ Hansen: The CHP reports that both lanes of Highway 108 are back open following the sedan versus motorcycle crash near the Mono Way onramp. The rider of the motorcycle was flown to a hospital in Modesto to treat major injuries sustained.
Update at 8:33am: Cleanup continues on a crash this morning on Highway 108 near the Mono Way onramp. Earlier, it was blocking both directions of Highway 108. The CHP now reports that the eastbound lane of 108 is back open, and the westbound lane should reopen in about 15-minutes. Travel with caution in the area.
Original story posted at 8:05am: Sonora, CA — Caltrans has closed Highway 108, in both directions, near the lower Mono Way onramp.
The CHP reports that you will want to avoid the area as traffic is shut down. Vehicles are being diverted off the highway onto Mono Way.
Limited details are available in regards to the crash, but it involved a motorcycle and a sedan. The motorcycle has traveled 20 feet down an embankment. Major injuries are reported in relation to the crash. Be prepared for activity in the area. It is not immediately clear how long Highway 108 will be closed.