Drivers Taking Advantage Of Lower Gas Prices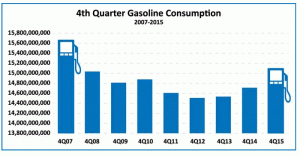 CA Gas Consumption Graph

View Photos
Newly released state data shows gas sales spiked in the fourth quarter of last year, likely due to lower prices.
The fourth quarter of 2015 saw drivers purchasing 3.79 billion gallons of gasoline, compared to 3.71 in 2014. 2015 saw the highest amount since 2007 when 3.9 billion gallons were sold. The U.S. Energy Information Administration notes that gas prices during the fourth quarter of last year averaged $2.63 per gallon, which was the lowest fourth quarter price since 2008 when it was $2.39.
"An improving economy and lower gas prices have made it easier for Californians to hit the road," says Board of Equalization Member George Runner. "It's clear people prefer to travel in their cars, so roads must be a priority."
Runner notes that excise tax revenue for the fourth quarter of 2015 was estimated at $1.13 billion and sales tax was estimated at $323 million. The excise tax funds highways and mass transit, while sales tax revenue from gasoline funds various local government programs.
The myMotherLode.com gas price section notes that regular unleaded is currently selling in Sonora from $2.49 -$2.85 and in San Andreas from $2.66-$2.75.