Governor Pens Higher Paid Family Leave Into Law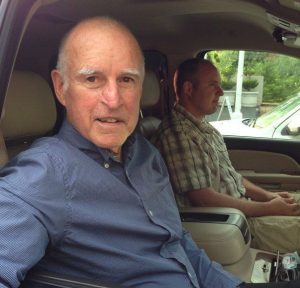 Governor Brown at the Mother Lode Fair: Photo taken by: Tracey Petersen

View Photos
Sacramento, CA — Today, the Governor officially expanded workers' paid family leave privileges.
As he set his pen to AB 908, authored by Assemblymember Jimmy Gomez, Governor Jerry Brown stated, "Families should be able to afford time off to take care of a new child or a member of their family who becomes ill. This expansion makes sense for employers and employees."
This means that California's Paid Family Leave program will up wage replacements from 55 percent to either 60 or 70 percent, depending on an applicant's income, enhancing the ability of workers to take up to six weeks off from their jobs to bond with a new child or help care for a family member who falls ill. The bill additionally eliminates the one-week waiting period to file claims.
The expansion builds upon the state's initial program, which, when it was enacted back in 2002, made California the first state in the nation with such a benefit for workers. Funding for it, wholly subsidized through workers' contributions, runs through the state's Employment Development Department and Disability Insurance program. The new law comes on the heels of the Governor's signing into law a ground-breaking minimum wage increase for state workers to $15 per hour, which is set to incrementally rise over the next few years.