Calaveras County Nets Grants Worth Over $65K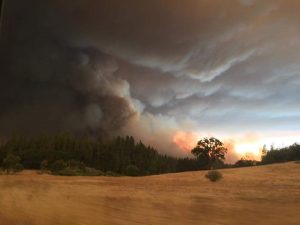 Butte Fire Visible From Glencoe

View Photos
Angels Camp, CA — Twelve organizations will get a chunk of the $67,759 competitive grant money awarded by the Calaveras Community Foundation (CCF) for 2016 — one will help build a Butte Fire memorial wall.
The Foundation focused on three initiatives: Aging in Place for Seniors, STEM (Science, Technology, Engineering and Math) and the Cultural Initiative.  Here is a breakdown of the grants provided by CCF:
Calaveras County's aging senior population was the beneficiary of four grants totaling $29,650:
Common Ground Senior Services and their "Home Delivered Meals" (aka Meals-on-Wheels) provides a well-balanced meal for seniors in Calaveras County who are homebound and alone most of the time.
Good Samaritan Neighbor to Neighbor Food Pantry in Valley Springs provides households with a better quality of life through food on a weekly basis.
Murphys Senior Center's "Lunch and Learn" project provides free lunches as well as educating participants on important topics of interest and concern.
Mokelumne Hill Community Church will be able to provide more food more frequently to seniors in that community.
Four projects dealing with the STEM (Science, Technology, Engineering and Math) initiative were awarded funding in the amount of $25,493:
TechRush will use an intensive 8-week 30+ hour Boot Camp model to introduce technology needed to develop functional websites.
Calaveras High School's project will focus on Lego Robotics, Machine Mechanics and Math.
Bret Harte High School's Cybullfrogs/Lego Robotics project will expand by purchasing additional equipment and kits to allow even more students to experience building ROV's (Remotely Operated Vehicles) and compete in an upcoming competition in Aptos, CA.
A-Team for Wildlife will provide a school assembly format to offer the "Saving Endangered Species" interactive presentation to enhance & supplement students' STEM education.
Four grants were awarded under the Cultural initiative amounting to $8,450:
Calaveras Arts Council is spearheading the building of a memorial wall "The Pieces Butte Fire Memorial Wall" using rubble from the ashes of properties lost during the recent Butte Fire.
Independence Hall Quilters will create a mobile sewing classroom to introduce the art of sewing to students between the ages of 10 to 18.
Mokelumne Hill Friends of the Library's project "The Girl with a Camera" will showcase library resources and focus on the life and history of resident, Edith Irvine.
Shakespeare on the Vine at Brice Station will produce "As You Like It" this summer with CCF underwriting the sound needs for this production.
Of note, Calaveras County community organizations have reaped the benefits of over $1,300,000 in competitive grants, scholarships and assistance funds since the foundations inception in 2000.
Find more information regarding the foundation, here.