Existing Cell Tower Now Needs Approval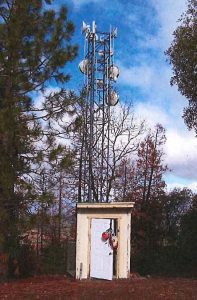 Cell Tower Vernal Drive Groveland

View Photos
Groveland, CA — Although already in the sky, some complaints regarding the mast prompted a county review, which determined the need for the proper permit to remain towering overhead in the Groveland area.
Tuolumne County Planning Commission will decide on whether to approve a Conditional Use Permit for the Bengier/Conifer Communications cell tower.  It stands 52 feet tall on 8.2 acres located at 18940 Vernal Drive near the intersection of Merrell Road.  Also on the property is a shed and garage.  The cell tower, built in 2014, services about 100 customers in the Groveland, Big Oak Flat and Pine Mountain Lake areas.  Currently the lot is zoned "Residential Estate" with a five acre minimum.
Company official indicated that they believed they were exempt from needing a permit because it is a wireless communications network facility.  However, some nearby neighbors complained about the look of the tower, traffic, noise and possible health issues, which brought Tuolumne County officials out to review the site.  Staff found that a permit was required.  Community Resources Agency Director Bev Shane indicates, "A Conditional Use Permit will allow it [cell tower] to remain…They are required to enter into a financial security agreement with the county… that provides funding in the event that the tower needs to be removed or is not maintained as required by county regulations. "
The cell tower is metal with a fence around it, unlike one that is over 100 feet tall and just approved last month by the Tuolumne County Board of Supervisors.  That tower will resemble a pine tree to fit in with the surrounding landscape.  The difference here notes Shane, "It's a relatively low tower.  It's in an area that is already screened by existing vegetation."
The planning commission meeting begins at 6 p.m. on Wednesday in the Tuolumne County Board of Supervisors Chambers in downtown Sonora.