'Sweet' Exemption To State Park Bill Gains Support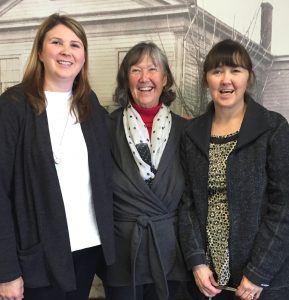 Columbia candymakers Janice Nelson, of Nelson's Columbia Candy Kitchen, flanked by daughters Sarah and Jennifer outside Tuolumne County Board of Supervisors Chambers, March 29, 2016

View Photos
Sonora, CA — A family of candy makers with roots that reach past those of their state park landlord continues to mount support from lawmakers hoping to work through a proposed bill's sticky issues.
As previously reported here, the Tuolumne County Board of Supervisors called a special meeting Tuesday afternoon to discuss sending a letter supporting AB 2249 — which seeks to protect historic names in state parks — with the caveat request that a special exemption be added that protects interests of Nelson's Columbia Candy Kitchen, which predate those established by the state at the founding of Columbia State Park in 1945. The bill was introduced to avoid trademark lawsuits with concessionaires such as what is currently being fought between Yosemite National Park and Delaware North Parks & Resorts at Yosemite (DNCY), as reported here.
Proprietor Janice Nelson appeared to speak on her own behalf. Sharing she had spoken with bill author State Assemblymember Ken Cooley, she said he provided assurance that keeping Nelson's from being able to rebid on the park concession during contract renewal time was not in any way the intent of the proposed law.
Appreciating What Is In A Name
Nelson commented, "I can really sympathize with [Cooley] because, I too, signed a petition wanting the names the Ahwahnee, Wawona and Camp Curry back again, because that is what we have lived with forever, too." Echoing his support and sentiments, fellow concessionaire George Segarini spoke. Noting that family operates Christopher at the City Hotel Restaurant and What Cheer Saloon, names that incorporate historic park monikers, he stated, "I understand what the state is trying to do with regard to protecting its names in the state parks…but there are some unintended consequences…and this is one of them."
Following a brief board discussion, the supervisors unsurprisingly voted 5-0 to send a letter to the state legislators. During the course of the board's discussion, District 1 Supervisor Sherri Brennan stated her preference for a stipulation that would categorically protect the interests of all state park vendors in similar positions as the Nelsons, instead of just requesting an exclusive protection for Nelson's. District 5 Supervisor and Board Chair Karl Rodefer, whose area includes Columbia, stated while they could suggest that, it would ultimately be up to the state to decide how best to word the language. "There's plenty of opportunities to nail this down but they are trying to do the amendment while it is still in committee," he remarked. Districts 2 and 3 Supervisors, Randy Hanvelt and Evan Royce both called backing Nelson's "a no-brainer." District 4 Supervisor John Gray, in his supportive comments, alluded to personal fond memories since childhood partaking of the famous Columbia sweets and a preference for the Pine Nut Rolls that extends down to his children. "Anything we can do to keep you in business is certainly going to make me happy," he confided.
In his comments to Clarke Broadcasting following the board action, Chair Rodefer stated, "I think most people in the county fully support AB 2249 in its intent. We are also very aware of the unique situation with Nelson's Candy Kitchen and the fact that its business and intellectual property predates the park and deserves some exceptional consideration under the bill – and I am very confident working with the legislators that I have been working with that they agree and that the right thing will get done." He added, "Passing this letter to be released to them just adds our support for an effort that they are already working on…that will take care of the special situation…and still protect our parks from unwanted invasion of their property rights, as well."
A Vested Interests Stumbling Block? 
Nelson also spoke with Clarke Broadcasting afterwards. Even though her family's most recent contract with Columbia State Park is up for renewal after expiring last August, she said that, in itself, was not cause for alarm. As she explained, "This is kind of a process with state contracts…once I was eight years on a month-to-month contract! I was just concerned — when I read the the language in AB 2249 — that it forbid people who had any vested interest in a name, a trademark, intellectual property…you would not be able to bid upon concessions…But, as I do have a trademark…a name and…those entities, so I thought 'I better contact assemblymen and see what is going on here."
Although Nelson's Candy Kitchen predates the establishment of Columbia State Park by five years, Nelson shares that her family's business connection reaches almost two decades further back. While candy maker Julius Naeagle and wife Pauline established the confectionery in 1922, not long after the Nelsons fell into the recipe, so to speak. As she explains, "Our grandfather Rex Nelson was a miner…working in the Carson Hill Mine. He broke his arm and was renting a room from the Naeagles…probably could not pay the rent, so they gave him a broom…or a candy paddle and said 'here, help us out!'"
In 1940, after four or five years of working for the Naeagles, Rex and his wife Dorothy bought the business and renamed it after their family. Since then, four generations have continued to steward the Columbia mainstay. Since her grandchildren, still growing up, are already lending their hands parttime, hopes for the Nelson candy dynasty to endure look good, according to Nelson. She also reports that the Naeagle connection remains strong. "Their relatives still come by, buy candy, say 'hello' and we still have contact," she laughs. Too, there are the original recipes, initially developed by Julius, all still in full use.