Legislation To Protect State Parks Could Have Unintended Consequence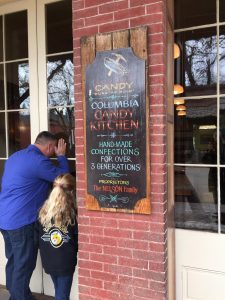 Nelson's Candy Kitchen

View Photos
Columbia, CA — A state bill that was introduced in response to the recent intellectual property debacle in Yosemite could have a negative impact on a longtime Columbia business.
AB 2249 was introduced to protect historic names in state parks. As reported previously, it would specifically prohibit concessionaires from claiming ownership of a name associated with a state park. The bill emerged after lawmakers watched the outrage what occurred when Deleware North Company trademarked the use of names like Ahwahnee and Curry Village in Yosemite National Park.
However, if AB 2249 is approved, it could impact Nelson's Candy Kitchen in Columbia State Park. The company was purchased in 1940 by the Nelson Family and renamed  "Nelson's Candy Kitchen." It was five years later, in 1945, when Columbia State Historic Park was established. County documents indicate that the candy company quit-claimed its building (currently Umpqua Bank) in 1950 in exchange for getting a concession agreement in Columbia State Park. The company entered into a new 25 year contract around 1971, as it had plans to invest and expand the business. They are currently at the tail end of a more recent 10-year contract. Under the language of AB 2249, the legal argument is that the name would become the ownership of the state park, even though it actually predated the park's opening.
The Tuolumne County Supervisors are calling for a special meeting Tuesday afternoon so that a letter can be drafted and sent to state lawmakers. The letter would argue that the principles of AB 2249 are desirable, but language needs to be included to protect a business like Nelson's Candy Kitchen. Tuesday's meeting will start at 1pm in the Board meeting room.