FFPC To Investigate Claims About Brown's Aide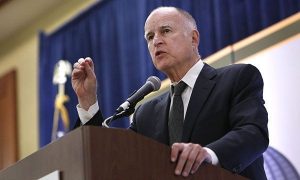 Governor Jerry Brown

View Photos
Sacramento, CA — California's political watchdog commission will investigate claims that a top aide to Governor Jerry Brown has not properly disclosed information about stock holdings.
The Associated Press reports that an outside group filed a complaint to the California Fair Political Practices Commission (FPPC) that Nancy McFadden, a former VP at PG&E, failed to disclose information about stock holdings in her former company. The group Consumer Watchdog alleges that she has not properly reported when the stock was sold, and for how much.
The group also alleges that McFadden may have helped PG&E lobby for friendly appointments on the California Public Utilities Commission and tried to influence legislation to benefit her former company. However, the FPPC, is declining to investigate those matters, saying there is insufficient evidence.
Brown hired McFadden to serve as an Executive Secretary in his administration in 2011. She was employed by PG&E from 2005-2010.