State Looks To Crackdown On Lobbying Loophole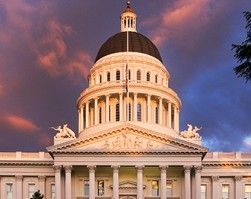 Capitol

View Photos
Sacramento, CA — State regulators will try to close a loophole that former lawmakers have used to lobby at the state capitol.
California law requires that exiting lawmakers be out of office for at least a year before lobbying former colleagues on behalf of a company or outside interest. The Associated Press reports that lawmakers have found a loophole by attending capitol meetings as an "expert" on topics, and not a registered lobbyist. The change would narrow in the definition of an "expert" in an attempt ensure that only bona-fide "experts" on topics of pending legislation can appear.
The state began allowing former lawmakers to speak as "experts" in the 1970's in an effort to gain additional knowledge base. In turn, they are not required to go through the hoops of registering as a state lobbyist. Most recently, the California Fair Political Practices Commission investigated the consulting firm of former Democratic Lt. Governor, and Assembly Speaker, Cruz Bustamonte. He spoke at the capitol, but did not have to report it because he was there as an "expert." The FPPC found no wrongdoing by Bustamonte, under the current law, but this is one of the reasons the commission is proposing the change.