Aramark Rolls Out Plans For Yosemite National Park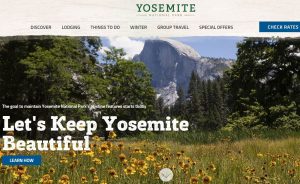 Screen Shot of Yosemite Hospitality's New Website March 1, 2016

View Photos
Yosemite, CA — Heralding its first official day on the job, Yosemite National Park's new concessionaire debuted a new website and a series of move forward plans.
"Aramark has a long history with the National Park Service and we are excited to be partnering with them to create great new memories for Yosemite's many enthusiasts who hold the park so near and dear to their hearts," states Bruce W. Fears, president of Aramark's Leisure Division, which now holds nine contracts with the NPS at seven national parks. As part of his company's park stewardship, he adds, "We look forward to introducing innovative programs and experiences that further shape the legacy of this awe-inspiring and iconic park."
As previously reported here, the final hours of interface with outgoing concessionaire Delaware North Companies (DNC), were not without issue, as DNC, still embroiled in a lawsuit against the National Park Service (NPS) continued attempting to maneuver a way to effectively transfer several trademarks that it retains, pending the outcome of the case. At the end of the day, DNC shared with Clarke Broadcasting a letter sent by its company CEO to the CFO of the National Park Service, offering to transfer the trademarks directly to it or into an escrow so the marks could remain in use, as reported here.
On travelyosemite.com, Aramark's new website under its operating subsidiary Yosemite Hospitality, LLC, which rolled out today, visitors will no doubt notice, along with the fresh look, there is not a mention of the historic iconic park landmark names caught up in that lawsuit and that their new monikers are in broad use.
Park Improvement Plans, Moving Forward
Fears shares that his company will, in the short-term, emphasize customer service and dining service enhancements, followed by a renovation of Degnan's Deli and Loft. A remodel of the Yosemite Valley Lodge food court and Half Dome Village dining areas are also in store, with goals to modernize their look, improve efficiency and increase service speed. Guest room improvements on slate throughout Yosemite's lodging areas will eventually include new in-room amenities, furnishings and increased accessibility. Other tech-based guest experience enhancements on the horizon will allow visitors to remotely make reservations, and place and pay for orders using their smartphones.
While working to ensure a seamless transition, Yosemite Hospitality says it looks forward to helping foster strong local community partnerships. Along with promoting environmental sustainability through responsible sourcing, waste minimization, energy and water conservation and transportation efficiencies, company officials say that part of its mission is to reduce its environmental impacts and carbon footprint.
The new concessionaire notes that one of the more noticeable changes guests will encounter is the removal of plastic bottled water for sale on store shelves and within dining areas. In its place, it is installing and increasing accessibility to filtered water dispensers and bottle-filling stations; as well as introducing water for sale in easier to recycle boxes and cans. A project dedicated to recycling can containers is designed to give back by benefiting "Canned Water 4 Kids," which helps improve access to clean water in developing countries as well as during domestic emergencies.
Along with the changes, Yosemite Hospitality has a new main line phone number in place to verify existing reservations or make new ones: 888 413-8869. Or visit the website by clicking here.