Bill To Shed Light On California's Higher Gas Prices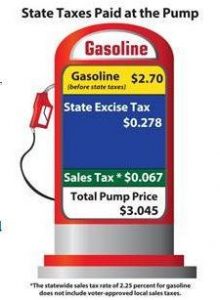 BOE Gas Prices graphic

View Photos
Sacramento, CA — A California lawmaker is seeking more transparency regarding the impact of the state's Cap and Trade program on gas prices.
Assembly Bill 2066, introduced by Republican Assemblyman Tom Lackey, would require gas stations to post the estimated cost per gallon related to the state's Cap and Trade program. Under current law they are required to display the federal and state taxes. In 2015 California became the first state to require gasoline and diesel fuel suppliers to purchase emission credits under its Cap and Trade efforts. Assemblyman Lackey argues that the non-partisan Legislative Analyst's Office estimates that it currently increases prices by 10-cents, and that it will add 13-20 cents by 2020.
Lackey adds, "California has the second highest gas costs in the country, and we are trying to figure out as consumers, why this exists. This cap-and-trade fee is obviously one of the clear answers as to why, and we don't even know we are paying it."
AB 2066 would provide clarity to the costs associated with the program and require the California Energy Commission to calculate average costs per gallon using the latest auction prices for carbon credits.