Petition Denouncing Yosemite Name Changes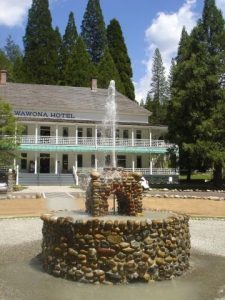 Wawona Hotel Fountain

View Photos
Sonora, CA — A grassroots petition calls for the current Yosemite concessioner to end its lawsuit related to property name trademarks.
Local Columbia College Art Professor Laurie Sylwester was Wednesday's KVML "Newsmaker of the Day".
As reported last week (Jan. 14), park officials announced it was renaming several iconic sites to avoid potential trademark infringement issues with the current concessioner, DNC Parks & Resorts at Yosemite, Inc., which is a subsidiary of the Delaware North Companies. That company has filed a lawsuit against the National Park Service after Yosemite contracted a new concessioner to take over on March 1. That prompted a legal battle with Yosemite and DNC, and the company argues it owns the iconic names through trademarks, which the company estimates are worth over $50 million.
A petition, authored by Sylwester, to the United States House of Representatives and U.S. Senate, states, "Delaware North is claiming to own the name "Yosemite National Park", "The Ahwahnee Hotel", "Wawona Hotel" and "Curry Village". Release those names to the citizens of the United States."
Sylwester backs up the petition citing that these historical names include three indigenous American names; indigenous people date back 12,000 years in the region, long before Delaware North was a corporation. She adds that tax dollars support Yosemite National Park and "no corporation may own that great heritage." Yosemite spokesperson Scott Gediman says he anticipated public objection once the announcement was made, "The Ahwahnee hotel was built in 1927, Curry Village has been in operation since 1899, these are historic structures, these names are associated with these structures and have been named these facilities before Delaware North took over the contract."
You can Click here to view the petition. Here are the Park's new names for the properties, chosen by park administrators:
●        Yosemite Lodge at the Falls to become: Yosemite Valley Lodge
●        The Ahwahnee to become: The Majestic Yosemite Hotel
●        Curry Village to become: Half Dome Village
●        Wawona Hotel to become: Big Trees Lodge
●        Badger Pass Ski Area to become:   Yosemite Ski & Snowboard Area
The "Newsmaker of the Day" is heard every weekday morning on AM 1450 KVML at 6:45, 7:45 and 8:45 AM.