Air Rescue At Yosemite's Nevada Falls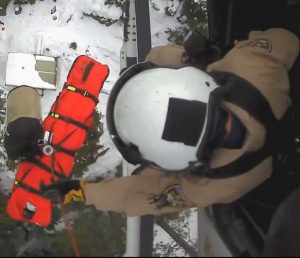 CHP Central Division Special Ops Command Nevada Falls Rescue Jan. 3, 2016
Yosemite, CA — An unplanned but nonetheless spectacular exit came via a hoist rescue for a hiker hurt after an icy misstep at Yosemite National Park.
According to California Highway Patrol (CHP) Central Division Special Operations Command Flight Officer/Paramedic Andrea Brown, who helped retrieve the hapless hiker, the call for an assist came in Saturday around 3:30 p.m. from the Yosemite National Park Search and Rescue (YOSAR). Officer Brown says the request was to check out reports of an injured person at the top of Nevada Falls, who might have suffered a back injury.
"By the time [YOSAR] would be able to access the patient and we could have gotten a hoist-qualified flight medic into the office it would have been too dark to do a hoist, because we do not do hoist missions in the dark," Brown explains. Subsequently, she and her flight partner, CHP Helicopter Pilot Ty Blasingame would have to wait until first light to depart from their Fresno base. Meanwhile, Brown recounts, YOSAR made the two-and-a-half-hour trek up through snow and ice to locate the hiker, identified as 63-year-old Sue Hopley, of Palo Alto, and confirmed that she had indeed, sustained a significant back injury.
Sheltering In Place Ahead Of The Hoist
So, Brown explains, "They sheltered her in place with sub-zero sleeping bags in a tent, and the park medic who had made it up to her gave her some pain medication through the night to make her as comfortable as possible." Arriving in their H40 helicopter around 7:15 the following morning, Brown and Blasingame set up the hoist after a recon of the area and air-lifted Hopley without incident to Ahwanhee Meadow Park, where she was transferred to another unit and flown to a Modesto-area hospital.
"Once we got down into the meadow and shut down, and talked with her, she was incredibly appreciative of our efforts to get her out of there…I am sure that was probably the longest night of her life up there," Brown shares. The two have since corresponded via email, where Hopley indicated that she had seen the video footage of the air rescue. Wryly, Brown comments, "[Hopley] said, 'yikes, I can't believe you hang outside of the helicopter like that'." To view the video footage, click here.
According to YOSAR, the area where Hopley fell is known to become treacherous during the day as, when the sun is warm enough, it will melt the snow in the flat granite area, which refreezes as temperatures get colder. "The YOSAR guys told me it is like an ice skating rink…it is super, super slippery," Brown states. She calls Hopley very lucky to have come out of her ordeal only needing a back brace for a few months.
A 'Really Lucky' Lady
"Ten feet is a pretty significant fall, especially into rock, and it sounds like she did not have a head injury either — and that is even better," Brown remarks. "I don't know what kind of gear…or experience…but when [Hopley] got up in that area, she slipped and fell back about ten feet onto some rocks and that is where she broke — I have been told — a couple of vertebrae. I don't know how close she was to completely  going over the side but she is really lucky to not have any permanent neurological damage or paralysis to her legs." Too, Hopley was hiking with a partner, who had somehow been able to get a hold of somebody to get help, Brown adds. "She probably would have froze to death if no one had been with her," Brown notes.
Sunday turned out to be a busy one for H40. Originally scheduled to fly Hopley to Modesto, Brown's unit was cleared early in order to help search for a family that had not returned to their camp. That search that turned out to be a short assignment, according to Brown, as the missing people were successfully located in their vehicle by other family members. "They were stuck in a snow bank on a forest service dirt road in the middle of nowhere, but everybody was okay," she chuckles.