SAR Leader Shares Cautionary Lost Skier Tale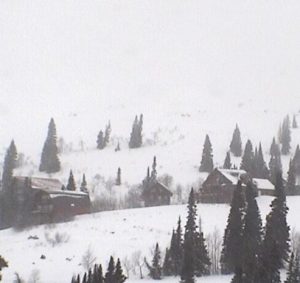 Powder Mtn. Resort Timberline Webcam Image, Jan. 6, 2016

View Photos
Weber County, Utah — A Jamestown man on a Utah ski vacation may not have made it more than several hours into the New Year without the help of rescuers, according to officials.
In the story, which made TV media headlines in Utah earlier this week, the man credited responsive ski patrols and his faith in God for his safety. His ordeal provides a cautionary tale for anyone skiing or otherwise recreating anywhere in the great outdoors.
According to Weber County Sheriff's Office Search and Rescue Commander Lt. Brandon Toll, while skiing at Powder Mountain Resort 33-year-old Tuolumne County resident Michael Nessl inadvertently missed a right turn that would have taken him into a powder country ski area with access to a nearby road serviced by a resort-operated bus that shuttles skiers back to the lifts. Instead, Nessl headed into aptly named Lefties Canyon, located by the Left Fork of the Wolf Creek Drainage. Toll reports that in the past few years the resort has done a good job marking and fencing the area, along with putting out information so people do not normally get stuck. While a few who already know choose that path, Lt. Toll says, "For those who don't know or are unsure of what they are getting into…it is several hours of hiking or skiing, or what have you, to get out of that canyon."
An S.O.S. By Text
Per Lt. Toll, it was around 4 o'clock New Year's Day afternoon that Nessl's wife sent her husband a text message asking him when he was going to be coming back. Lt. Toll recalls, "Around 5 o'clock, she heard from him by text message, saying that he was lost, needed help, to contact the ski patrol…so at that that point she did contact the Powder Mountain Ski Patrol, who did have some text message conversation back and forth, and were able to narrow down the area approximately where he was."
The Sheriff's Office Search and Rescue got a call from the resort around 6:30 p.m., when resort personnel were unable to find Nessl and were not sure exactly how far down Lefties Canyon he might have gone. The Sheriff's Search and Rescue Ski Team arrived on scene at the county command and were dispatched to the top of Lefties, where they located some fresh tracks that turned out to circle back upon themselves. "Finally, they were able to locate a lone track that was going up the mountainside and they could see where it was traversing down Lefties Canyon," Lt. Toll recounts. A helicopter was called to assist with the search. The searchers were still unsure if Nessl was down Lefties as another report came in of a light spotted on the other side of the mountain that would have put him in another canyon, which did not bear out.
"The team just stayed on the track…you could see where [Nessl] side-stepped…skied down…side-stepped back up, and skied down multiple times," Lt. Toll continues, surmising that the distressed skier was trying to stay on his skis and maintain momentum through the waist-deep powder. Around midnight and three-quarters of the way down, Toll says the rescuers were able to make voice contact after hearing Nessl's yells for help. Had they not been able to locate him, Lt. Toll admits, "I think he would have had a difficult time…he was getting very tired…had laid down and fallen asleep a couple of times. He was really, really cold. His gloves were frozen all the way through…his feet were frozen…it was four degrees in the area where we were working and so it was a very cold night."

A Happy Ending With Lessons Learned
Lt. Toll notes that the hapless skier was very appreciative of the Search and Rescue Ski Team's efforts. "I mean, he was so happy to see us…our guys immediately started to get warm fluids in him, give him some Power Bars…to make sure to give him some energy and warmed him up, and then we had a helicopter that was getting fairly close and so at that point the team just packed down a big landing zone," Lt. Toll details. Although they were in a narrow tight canyon, the helicopter was able to land, pick Nessl up, and transport him to the parking lot of a local junior high school, where medical responders checked him out further, after which he was reunited with his family while deputies helped retrieve his car that was still parked at the top of the ski area.
As part of Lt. Toll's cautionary tale, he advises those skiing or otherwise out in nature, "Anytime you find yourself lost or disoriented, the best thing is to turn around and trace your steps back, I mean, at least you know where you came from and if you are really not sure of where to go, always stay put…the problem I see is that a lot of people will continue going down, thinking, Number One, that it is the easiest route because you are going down …but they just don't quite know where it is going to lead them and a lot of times that gets them into more trouble." Although it might seem counter-intuitive, Lt. Toll stresses, "We try to tell people to get on a high point. If you can get up high, typically you can orient yourself to where you can maybe see some of the terrain that is familiar to you… a lot of times, the higher you are you may be able to get cell phone service…and in an open area we can more than likely find you much quicker."
Offering a final takeaway, Lt. Toll states, "Time and time again, a lot of people go out thinking they are just going out for a couple of hours, not really preparing with extra food, water, clothing, fire-starting material, any survival gear…thinking, 'I'll just take this last run and I don't need all that stuff'…I always say, prepare no matter what. Even if you think you are just going for a couple of hours, you can get yourself into a situation that will end up putting you out there a lot longer than expected, and even possibly overnight…if that does occur, it would be good to stay warm, dry, and at least hydrated and have some nutrition."
"[Nessl] didn't have any of that stuff," Lt. Toll points out. However, he was able to help himself out, Lt. Toll says because of his ability to initially send texts, which made a huge difference. As a result, he says, "We were able to get a general location of where he was — that is a big mountain and there are a lot of areas where you can get lost…it helped us a great deal to be able to focus on a specific area."