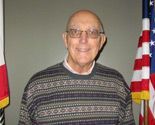 Jim Grinnell, TUD President 2016

View Photos
Tuolumne, CA – In what was easily its shortest regular meeting of the year, the Tuolumne Utilities District (TUD) Board of Directors chose a new president.
Tuesday's meeting, which wound down in less than 40 minutes, included board reports, updates, and notice from staff that the board would receive by mid-January or early February a district budget update that will incorporate the new, previously reported rate increase and capital improvement projects.
Turning to address the board's sole regular agenda item for its last scheduled meeting of the year, TUD Board President Ron Ringen opened the floor for public comment. Hearing none, discussion began among the board members. Almost at once, Member Jim Grinnell requested an establishment of a "pecking order," so all would have the opportunity to serve in both positions. Noting that Member John Maciel had already been president and that Ringen was currently serving in the role, Grinnell offered what he would consider a logical order: Kent Johnson, the current vice president; he himself, with a year and a half of current service; and Ron Kopf, who now has a year of board service under his belt.
As the process to adopt an ascension order for the policy handbook would require making it an agenda item for discussion and voting, the board ruminated for a few minutes. Johnson reminded Grinnell that an informal arrangement, similar to the one Grinnell was suggesting had been in place until three years ago, when Grinnell, himself, swung other members to choose a president based on number of votes cast. This led to further recollection by the group that Grinnell, who, in a former term, served as vice president but missed out on ascending to the top spot due to a physical injury that forced him to resign from the board.
Member John Maciel subsequently moved to nominate Grinnell for president, a motion that, in short order, passed 4-1; Ringen casting the dissenting vote. Nominated to serve again as vice president was Kent Johnson in a move that passed with a unanimous vote.
The board previously voted to cancel its Dec. 22 session due to the recent special meeting and public hearing held in connection with the rate hike. As its meetings are held monthly on the second and fourth Tuesdays, it will convene for the first time in 2016 on Jan. 12.