Burglary Suspect Nabbed In Angels Camp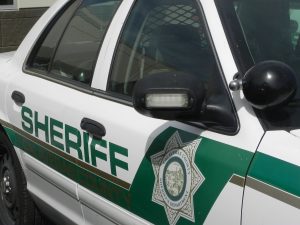 Calaveras County Sheriff

View Photos
San Andreas, CA — Law officials successfully grounded a man who attempted using fire as a diversion during a rooftop escape.
During a criminal investigation that Calaveras County Sheriff's deputies were following over the weekend, spokesperson Sgt. Anthony Eberhardt states that the office received word on Sunday around 3 p.m. that an alleged suspect wanted in a Saturday burglary was spotted in near Angels Camp.
The suspect, 27-year-old Joseph Alonzo Bleak, was reportedly discovered in the Middleton's Shopping Center. After noticing an Angels Camp police officer pull into the parking area, Sgt' Eberhardt says the suspect entered a nearby store. When Bleak failed to exit, deputies went in after him and found he had accessed the shopping center roof in an attempt to evade authorities. "He also set his shirt on fire and threw it into an empty adjacent field, igniting a small vegetation fire," Sgt. Eberhardt recounts. He adds, "Running away from the fire along the rooftop, he jumped off the single story building, but Angels Camp police officers and deputies caught up with him."
Bleak was subsequently arrested for burglary, vandalism, arson, possession of a stolen vehicle, and grand theft. Bail was set at $347,500. According to Sgt. Eberhardt, the case remains under active investigation.