Connecting Folks With Thanksgiving Trimmings, Santa's Express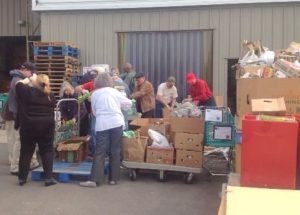 The Resource Connection during a Santa's Express packing activity with volunteers, 2014

View Photos
San Andreas, CA – As folks around Calaveras County shop and prepare for Thanksgiving, The Resource Connection Food Bank is still doling out all the fixin's for those in need.
According to The Resource Connection Food Bank Director Jeannie Hayward, since early November the food bank has been collecting and handing out all the trimmings for a Thanksgiving feast. From stuffing, cream of mushroom soup and cranberry sauce, to green beans, yams, and marshmallows, Hayward says that, through The Resource Connection's auspices, low-income folks may still find virtually everything they need so they can focus their slim resources on picking up their own turkey. She adds that these items are still available weekdays between 9 a.m. and 4:30 p.m. through next Wednesday at the facility in San Andreas, located at 206 George Reed Drive.
'Santa's Express' Efforts Already Aloft
Already heading up December relief efforts, Hayward gleefully notes, "Santa's Express, which has been distributing holiday food probably for the past 25…30 years is now in full force…going strong!" Fueled by the helping hands of hundreds of community members and the food bank staff, Hayward says she expects this year's program will ease the winter holidays for about 1,100 families, a figure roughly similar to last year's needs fulfilled.
Along with a turkey or ham and all the festive meal trimmings, participants also receive bags of groceries filled with canned goods, fresh produce, rolls or bread of some sort, and a dessert. Those with children between the ages of "zero and 17" may also sign up for the toy segment of the program, which, this year is co-partnering for the first time with the Marines' Toys for Tots. Hayward states that the Marines have boxes out already to collect new, unwrapped toys for the Santa's Express gift pick up day on Dec. 21. She confides that contributions this year will include "amazing" items, "like bikes and bike helmets."
What is different this year, according to Hayward, is that The Resource Connection is inviting Butte Fire survivors who lost everything in the disaster to participate, no matter their income level. For others, the income requirement to qualify for Santa's Express is 185 percent of the poverty guidelines; Hayward says for a family of four that would be a maximum of $3,738 per month, which is roughly $40,000 per year. The sign up deadline for participation is Wednesday, Dec. 9.
Reaching Out To Butte Fire Survivors
Although The Resource Connection is providing significant ongoing assistance to those impacted by the wildfire, Hayward admits that it is hard to track what percentage of its constituents are Butte Fire survivors since the organization does not differentiate the group from its total numbers. "We just want them to know that they most certainly can come in and get signed up for [Santa's Express] — we will have plenty for everybody," she states.
Another bright note Hayward shares, over at the food bank, "Our actual numbers that we have served over the past year have come down a little bit…which is a good thing, because you hate to see those really high, high numbers." She figures, "Last year we were serving an average of about a thousand families a month, and this year we are between about 800 and 900 families a month…those numbers are coming down…but over the past couple of months, with the Butte Fire, our numbers have come up a little bit — which we anticipated."
Too, Hayward points out, "We have also been out in the community distributing food in Mountain Ranch, Railroad Flat and West Point, insuring that people are able to have access to food, if they need it. Those who lost everything in the fire are encouraged to come back to the food bank as often as they need to, she says, "Especially those living in tents and trailers with limited refrigerated food storage."
Shop And Donate — Or Lend A Hand 
This Saturday, for those who are interested in contributing a holiday turkey, Santa's Express volunteers will be taking them at Save Mart in Angels Camp and Mar-Val Food Store in Valley Springs from 10 a.m. until 3 p.m. "We have a goal of 200 turkeys and we are currently at about 100 so far," Hayward guesstimates.
A "Stuff the Bus" efforts will also be in full swing at both grocery store locations, using Calaveras Transit buses. As Hayward explains, "We have a list of foods that we are looking for people to donate, including turkeys and hams, and as people shop, they get a list from us…go in and shop and bring us out their donations. It is very simple and a great way to raise some donated foods." She adds that the effort still needs additional volunteers to show up and help pack the bus with the collected food donations.
Distinctive red collection boxes are additionally out in the local grocery stores, ready for ongoing winter food bank donations of non-perishables in non-glass containers. After Thanksgiving is over, volunteers will collect and replace the boxes regularly, bringing the contents to the food bank for sorting and packing into grocery bags.
For those interested in helping fuel this year's Santa's Express, which is set for Monday, Dec. 21, pre-event packing days are scheduled the first four Saturdays in December (Dec. 5, 12, 16 and 19) from 9 a.m. until 4 p.m. Volunteers may work all day or choose a shift from 9 a.m. until to noon, or 1 to 4 p.m. Santa's Express also needs helpers on Dec. 21 between 9 a.m. and 4 p.m. at Mountain Oaks School, in San Andreas, as well as at the other not publicly disclosed two locations in West Point and Arnold-Murphys area. During the event, the kids will be treated to holiday fun and pictures with Santa while parents and guardians sneak away to choose two toys and stocking stuffers for each child under age 14. Walmart gift cards will be available to youths 15 to 17.
For more information on and/or to participate in any of The Resource Connection efforts described above, call the main office at 209 754-1257.
Among the early Santa's Express business donors Hayward reports that this week, Pacific Gas and Electric Company (PG&E) contributed $50,000 and committed a number of employee volunteers. A regular community club supporter, the Foothill Classics Car Club, kicked in $1,000 (to view photos, click in upper left image box).