'Getting Arms Around' The Tree Mortality Emergency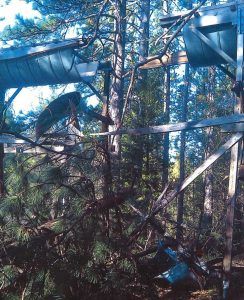 TUD Flume damage due to fallen trees

View Photos
Sonora, CA — The latest local states of emergency-related woes related at the Tuolumne supervisors' meeting leaned to issues with state support for dying trees.
At Tuesday's meeting, before once again unanimously renewing the local drought and tree mortality states of emergency, the Tuolumne County Board of Supervisors heard from county staff and shared pithy updates on their own recent supporting activities.
Reporting from the County Administrator's Office, while Office of Emergency Services (OES) Coordinator Tracie Riggs referred to recent weather system activities as "nice," she quickly added that the resulting precipitation "is not even a drop in the bucket" of what is needed to mitigate long-term drought effects across the region. At an operational area pre-winter meeting, scheduled for Wednesday, she noted that attending agencies will be sharing all the different impacts taking place in order to better prepare for the season.
District 5 Supervisor Karl Rodefer shared his growing concerns on how the continued drought and deterioration of trees locally may be making living in the county look "absolutely untenable," due to impacts on homeowners and business insurance. Recalling his attendance at the county chamber of commerce's latest government affairs meeting, he stated, "This continues to be an agenda item that comes up…the confluence of homeowners insurance, fire safety, tree mortality and wells are all interrelated."
'Untenable' Costs Quickly Rack Up
Pointing to costs of $15,000 to $25,000 to drill a well through rock; the sometimes thousands of dollars it might require to take out a single dead tree; and the potential negative financial impacts to private businesses and individual property owners, he stated emphatically, "We need to be working the problem hard." Ahead of calling for an integrated move forward plan he also shared, "At some point, the governor is going to turn the funding off, maybe if we get a really good winter this year."
Among the supervisors who attended the state's tree mortality task force meeting on Monday, District 2 Supervisor Randy Hanvelt reported an healthy turnout of personnel from CalFire, OES and the governor's office, but representatives from only three impacted counties: Madera, Mariposa and Tuolumne. While the exchange turned out to be largely informational as the stakeholder agencies attempt to "get their arms around" the issue, the board learned that funding assistance will come through Cal OES, which is assuming a lead agency position. Initial scope includes developing high hazard zones; addressing public safety concerns with regard to public communications; evacuation routes; key infrastructure; and tree die off tracking.
The board shared a consensus that county staff should continue with its very close communications with the governor's office; detailing specific local needs, efforts and project proposals in order to keep financial assistance dollars coming as long as possible. "As we keep working with the state, we need to make it clear that there will be a need to transition [from funding] but a cut off would be devastating," Board Chair and District 4 Supervisor Gray stated. Riggs replied that her office was already on it with Cal OES, along with coordinating on other shared tree and drought-related concerns. Among these are gathering real-time working data for long-term planning; such as gathering post-rain baseline levels in impacted fractured rock wells to help determine recharge rates.
Gray noted, "You know, we have talked about all the problems everybody else has, but we need to address the one that we have — and it is the trees on the edges of our roadways. Regardless if we get any money, those trees are going to fall and they are going to cause problems, so the option of not looking up is not an option — we have to have a plan." Riggs shared that the local tree mortality task force will hold its second meeting on Dec. 4; Cal Fire Unit Forester Adam Frese is serving as chair.
Wells And Emergency Water Supplies 
Although referrals for water supplies assistance have slowed down, Riggs said staff is uncertain whether those with failing wells who have not yet been in touch might be trying to bear it out, hoping more wet weather will come. Riggs currently reports 235 dry wells and 11 dry springs in the county. Of 144 referrals made to the Amador-Tuolumne Community Action Agency (ATCAA) for emergency water supplies, 118 tanks have been installed and 144 tanks are receiving water deliveries. In total, she estimates that the county knows of about 350 homes under impact.
The biggest related local project underway is a proposal, as previously reported, that seeks to extend a Tuolumne Utilities District (TUD) water main in Jamestown to over a dozen residences from Karlee Lane through Cindy Court and Quartz Street through to Jacksonville Road. Riggs states that various agencies are researching several funding mechanisms to get the overall cost per home low enough to not require state water board approval and other requirements. So far, she shares that 14 of 16 homes in the area that are presently receiving emergency water supplies have signed letters of interest. As other homes in the area who are well-dependent would be able to participate in the program, the county may do some door-to-door outreach to gauge interest.