Trustees To Discuss Shuffling Sonora High Improvements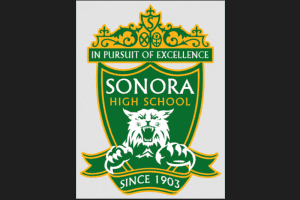 Sonora High School logo

View Photos
Sonora, CA – Planned on-campus improvements, another potential bond sale and interim workarounds to create a temporary cafeteria at Sonora High are on the trustees' next agenda.
At Tuesday's trustees' meeting, ahead of making any decisional shifts on re-prioritizing Phase 2 Measure J construction projects, the board will address parent and community concerns with what is being described as a rapidly deteriorating condition of the school swimming pool, which had been previously communicated to WLC, the school's project contractor. WLC expects to present an update on costs and current options for the board regarding construction of the planned bridge, track and field, and cafeteria projects.
As previously reported, due to paperwork errors, at its last meeting the board was unable to make several project bid awards. According to the meeting agenda, it anticipates awarding over $5.8 million in contracts to the lowest bidding qualified contractors, as recommended by WLC.
Among these Bobo Construction stands to receive some $1,923,000 in awards. These include $903,000 to provide general construction, finishes and kitchen equipment; $483,000 for steel and fencing; $280,000 for rough carpentry; and $257,000 for doors, hardware and glazing.
Boyer Construction is listed as potentially receiving $997,000 in awards; $798,000 for concrete and $199,000 for plaster and gypsum board work. The other contracts indicated in the meeting documents show George Reed tentatively receiving $1,278,200 for demolition, earthwork and paving; Graham Prewett, $322,000 for roofing; DC Vient, $39,900 for painting; Modern Air, $437,995 for mechanical systems; Collins Electric, $519,848 for electrical systems; J Hart, $213,000 for plumbing; and Fire Systems Solutions, $79,800, for fire sprinklers.
On a related topic, the trustees will consider approving another issuance and sale of $5 million in Series C bonds.
Ahead of the cafeteria renovation, Superintendent Pat Chabot will update the board on plans to temporarily relocate dining operations inside the Humanities Building, using two adjoining classrooms, where cafeteria staff will be serving lunches prepared in trailers, now being prepared, that will be situated onsite until the new kitchen is ready.
The potential purchase of a parking lot that the school currently leases is scheduled for a closed session discussion.
The meeting will begin at 6 p.m. in the school's first floor conference room (100 School St.).