Drought Continues To Worry Tuolumne County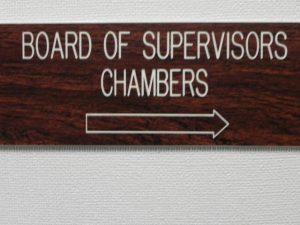 Tuolumne County Board of Supervisors Sign

View Photos
Sonora, CA — 344 homes have now lost water supply in Tuolumne County due to dried up wells and springs.
That was the latest figure provided by Environmental Health Director Rob Kostlivy at Tuesday's Board of Supervisors meeting. Specifically, 228 wells have been impacted and 11 springs. The number of homes losing supply has been slowing down over recent weeks. Over the past 45 days, Kostlivy said there have been a "few new reports each week," compared to a "few reports each day," during the peak. Kostlivy, however, cautioned, "I personally do not think that we are out in the clear yet, and we have no idea what the weather is going to be like throughout the end of this year and into the spring."
Adding to the concern is the uncertainty about how fractured rock water wells will respond. "It's going to be very interesting to see what happens when we do get water. As I've reported many times during the past 18 months, fractured rock wells typically take about four years to recharge."
There is a possible connection between many of the dry wells to old historic mines. The county is starting to test the wells to see if there is any noticeable drop in static water levels when precipitation hits.
Kostlivy added, "If it doesn't recharge, and takes 3-4 years to recharge, that's scary. Because even if we get a bountiful winter, we are going to be looking at drought situations in Tuolumne County for another 3-4 years."
The county has been working with other agencies to provide water onsite to several of the homes impacted, in addition, some have been added to T.U.D. connections, when possible.
The Supervisors voted unanimously yesterday to extend the local state of emergency due to the drought.  The county is hoping that state funding will continue for the local drought efforts.