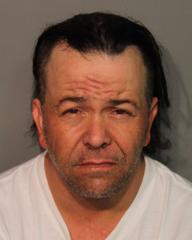 Brian James

View Photos
Angels Camps, CA — An Angels Camp police officer spots two men standing outside of a closed office building and after he approaches them — a foot chase begins and ends with one of the men in handcuffs busted for drugs.
The incident happened on Wednesday at approximately 1:25 a.m. in the 500 block of Stanislaus Avenue. When the officer approached the men outside a vehicle, they turned away and ran in the opposite direction, leaving their ride behind.
A search of the area ensued with assistance from the Calaveras County Sheriff's Department. Police found 43-year-old Brian James of Angels Camp nearby and a records check showed he was the owner of the vehicle. Officers discovered 3.24 ounces of methamphetamine on the ground outside James' vehicle and inside they found a jar containing nearly 3 pounds of marijuana, glass smoking pipes, more than 100 small plastic baggies, and a digital scale.
Officers arrested James and booked in to the Calaveras County Jail. He faces felony drug charges including Possession of a Controlled Substance for Sales, Possession of a Controlled Substance and Destroying or Concealing Evidence.