Unexpected Benefits To Flow From New Melones Water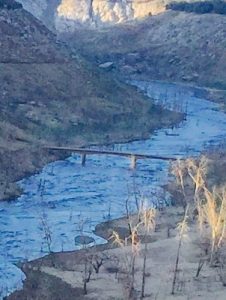 New Melones low water levels-8-19-15

View Photos
Oakdale, CA — Some surprise water savings at New Melones Reservoir will soon yield unexpected financial, farming and fish benefits downstream.
As previously reported, earlier this year, Tri-Dam Partners the Oakdale Irrigation District (OID) and South San Joaquin Irrigation District (SSJID), which developed, operate and maintain the reservoir's operations, worked with state and federal fishery agencies and Bureau of Reclamation to come up with a joint plan to manage New Melones' meager water supply. Back in April, predictions were that inflow would result in as little as 147,000 acre-feet remaining at the end of September, leaving the reservoir at less than seven percent of its 2.4 million acre-foot capacity.
So, the stakeholders, according to OID General Manager Steve Knell, "We finally agreed to letting the [fish] pulse flows go…agreed to extra conservation, and bumped the end of month storage to 200,000 acre feet, as it's hard to control what people are going to do…obviously…we set some targets." He states that, as a result, "Lo and behold, we saved almost 80,000 to 90,000 acre-feet, between the two districts, which is a good thing —  but it also created a surplus of water that we had no intention of creating."
'Give And Take' Yields 'Win-Win'
Under its government contract, as Knell points out, Tri-Dam does not have water after Oct. 1 and there are no provisions to normally allow it that amount of additional water storage. "We could not carry that water over into next year and were going to lose it — and that would have been very bad," as he puts it. However, as the agencies had already been negotiating over the past several months Tri-Dam requested, as part of the "give and take," to be allowed to retain the water it worked so hard to conserve.
Subsequently, the Bureau gave Tri-Dam a month to find a buyer at the end of the Stanislaus River to pick up and purchase the water, which, later this month, will be sent downstream bundled with pulse flows that the surprise surplus has made possible.
"There was really two agreements, one with the Bureau of Reclamation on how we are going to manage flows in the river and treat our water going into next year, and then we had another contract to pick up this released water by the state and federal contractors," Knell explains. "So, what potentially, in a stand-off position, which could have…been very bad for us, turned out to be very good."
Windfall Will Help Offset Drought Costs
According to Knell, the state and federal contractors offered and are paying $500 per acre foot for some 23,000 acre feet being moved between the two districts, which will generate $5.5 million each for the two districts. The water, which will be stored in San Luis Reservoir, will benefit some 200,000 residential users as well as help provide west side farmers a buffer for the start of the 2016 agricultural season. "If [the water contractors] did not pick it up, it would have gone out to the ocean," he says. Too, he adds, "The drought is going to cost us around $7 million this year, so it cuts our losses down, significantly."
It is anticipated that the pulse flow water will attract fisheries into the Stanislaus River. "They call it 'fall attraction flow' so, hopefully [the larger mass release] will keep water temperatures cool, because we lost about 60 percent of our salmon population because the waters got too warm for them," Knell states. "With the volume that the fisheries have to work with it should be productive," he notes.