Melones To Maintain More Water, For Now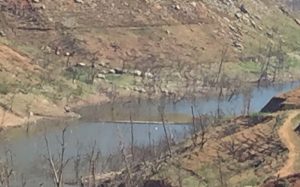 Closer View of Bridge Submerged In New Melones

View Photos
Oakdale, CA — More of New Melones' meager water supply will remain in place, at least for now, under a new temporary urgency change order issued by the state water board.
Subject to conditions, the order allows the U.S. Bureau of Reclamation, through November 30, to lower the minimum dissolved oxygen (DO) concentration requirement for the Stanislaus River below Goodwin Dam from 7 milligrams per liter (mg/l) to 5 ml/l, which is the river basin plan's minimum allowable standard. The move is expected to help hold critical water supplies in reserve for minimal fish protection and other supply uses for the balance of this year into the next.
The change order is "good news, all around," says Steve Knell, Oakdale Irrigation District (OID) general manager, who says his district and Tri-Dam Project partner, the South San Joaquin Irrigation District (SSJID), were historically at odds with prior required DO measurements being taken downstream from where he calls "the more important part of the river," as it relates to fisheries in summer, especially during low flows. Tri-Dam developed, operate and maintain the reservoir's operations.
"The trout and resident steelhead are all upstream of Orange Blossom Bridge [a district landmark]. From there to Goodwin [Dam] is the area of the river that needs to be protected when it comes to DO…temperature, and all things that are beneficial," Knell continues. "So, moving it back upstream or waiving the requirements just allows Melones to save more water and to keep water behind the dam for uses that are more important later on."
Before issuing the order, Reclamation was required to coordinate with the Department of Fish and Wildlife (DFW), National Marine Fisheries (NMFS) and US Fish and Wildlife (USFWS) fisheries agencies on an operations plan for next year that "reasonably" protects fish and wildlife on the Stanislaus. The bureau is also required to document the plan's effectiveness in protecting fishery resources moving forward, as drought conditions and operations remain a long-term concern. Other conditions related to coordination, monitoring and reporting were added to help ensure that the change will not cause unreasonable fish and wildlife impacts.
Change (Process) Is Good 
Backing up the "urgency" behind the change order are current estimates that project New Melones water storage may reach as low as 259 thousand-acre-feet (TAF) by September, the end of this water-year, with inflow around 300 TAF, its lowest ever. Subsequently, reservoir storage may well drop below the elevation needed to support power generation. Additionally, there is currently not enough supply, according to Reclamation, to meet permit conditions or service water demands through the end of December and that water deliveries to OID and SSJID have hit their contractual minimums.
"These change petitions are an effective way for both the state and fed government and the fish agencies, when there are limited resources available," Knell comments. "We all know there are periods of time in which change has to occur in these regulations," he explains. "So, having a change petition…and a process…to still meet all the needs but…forgive some of the water quality requirements for a period of time, I think, is an effective way to manage both river assets and fisheries in California."
As previously reported, the Tri-Dam partners and state water agencies faced some contention from the feds back in April while attempting to work out whose water allocations were going to be heading down the Stanislaus for fish pulse flows. The two districts maintained contact with Mother Lode government agencies and water districts over the course of the process and tapped their support.
"Once we finally got the plan put in place, back in April, we have lived to that plan," Knell states. Subsequently, he says, "The federal government…National Marine Fisheries Service and the two irrigation districts…we got [water-wise] what we fully anticipated this year."
In an earlier story, while working out an initial blueprint, Tri-Dam personnel provided insight into their operations and possible impacts to Lake Tulloch. This included tentative plans, still in the works for this fall, to run the system's federally and state mandated five-year gate exercises two years early, which will cover the legal requirement through 2020. The obvious reason for this is that New Melones will be at dead pool levels and Tulloch will be close to its draw down levels.
Knell indicates model runs being done now, already accepted by all involved agencies, will determine how soon the cold water pools of Tulloch and New Melones will be tapped together in order to meet the river's temperature requirements. While the data is still being gathered, he says, "What we see in the model is, that we will have a draw-down schedule by the end of this week, or early next week."