Sonora High Measure J Construction Bids Delayed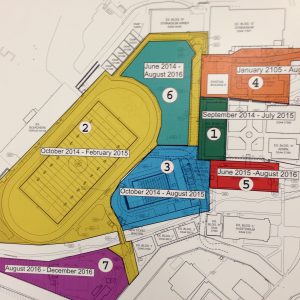 Sonora High School's Measure J construction schedule

View Photos
Sonora, CA – Long-delayed improvement projects at Sonora High School saw another set back again this week.
At Tuesday's trustees meeting, Superintendent Pat Chabot reported that administrators had to pull from the agenda an award list of Phase 2 of Measure J construction contracts for the school's bridge, track and field and cafeteria building projects. They were submitted by Folsom-based WLC Architects, the school's contractor. As previously reported, administrators are hoping to get these recently funded projects underway before year's end.
"Several — or most — of our bidders did not include their license number…on the bid – for them, or their subcontractors, and so that was brought to our attention that construction laws require that," Chabot explains. The reason for that, he says, is because the construction contractor neglected to request that information on the first page of the bid proposal application package.
So, Chabot continues, "Basically, we're taking a step back at what's going on…assess what we have to do, and hopefully, within a week or so we can have a special board meeting and award some of the contracts, so we can get started as quickly as possible." He adds, "Then, if we need to rebid some of the other categories we can do that and get it done correctly this time."
Contracts for projects in ten of 14 listed categories had been slated to be awarded Tuesday. Of the ten scheduled, Boyer Construction of Sonora would have picked up five, altogether totaling over $3 million. These contracts covered demolition grading and paving; general construction and finishes; concrete, rough carpentry; and food service equipment. Among other tentative awards also taken off the table, for now at least: $184,000 to Sacramento-based Bobo Construction for gypsum board, insulation and plaster work; $439,184 to Modesto-based Champion Industrial Contractors for mechanical systems; $559,400 to Stockton-based Collins Electrical Company; over $208,100 to Sonora-based J. Hart Plumbing; and nearly $49,000 to Fresno-based Fire System Solutions for fire sprinklers.