Sonora High Reports New Hire, Building Funds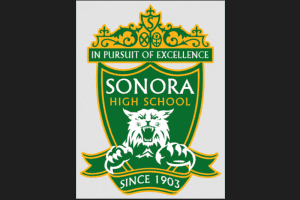 Sonora High School logo

View Photos
Sonora, CA — Along with fresh funds for campus improvements, Sonora Union High School District reports a key new hire, among other back-to-school news.
At Tuesday's board of trustees meeting, Superintendent Pat Chabot reported the district just received funds from its second series of Measure J Project bond sales. With that infusion, he shares, "We will be starting work on the track and field…the first part of November — and we'll be starting our cafeteria about the end of November." He adds that construction on the former is expected to be completed before the end of the school year, so the Class of 2016 graduation ceremony may be held there; the latter is expected to be turnkey in time for the beginning of the 2016-17 school year.
As for move-forward plans on other slated Measure J projects that are still in limbo, due to the ongoing Citizens Against School Bond Abuse lawsuit (as previously reported here), Chabot indicates he is hoping that Judge James Boscoe may provide his final demurrer ruling by sometime in the mid-month, unless the case is continued again.
New Assistant Principal Ready To Start
In other major news, the district just hired Leslie Renee as the school's new Assistant Principal, filling the slot left by Ben Howell's promotion to Principal. Currently an English teacher and administrative substitute at Amador High School, in Jackson, Renee has worked there since 2005. Chabot says she may start as soon as next Tuesday. Renee's educational background includes a Bachelor of Arts degree in Human Spirituality from California State University, East Bay; a Masters in Education from Walden University; and an Education Specialist degree from University of Phoenix.
Next week, according to Chabot, during a grand opening event that will be held in tandem with its Back To School Night, Wednesday, Sept. 9, at 5 p.m, the public is invited to tour the high school's new Humanities Building.
Too, Chabot shares, the results of the first major back-to-school harvest at the high school's Wildcat Ranch last Friday are also ripe for enjoyment. Potatoes, corn, tomatoes and other vegetables will continue to be sold at downtown Farmers Market events through the month; bounty already sent to the cafeteria is already winding up on the school lunch menus. About 50 students took part in the harvest activities (see images in upper left image box), under the direction of ranch manager Robert Mayben and ag teacher Stacy Ingalls. Proceeds raised from produce sales, according to Chabot, go back into ranch programs.