Update: Butte Fire Destroyed Home Figures Drop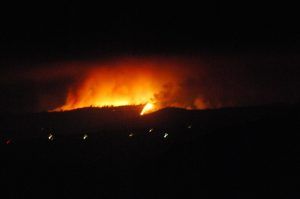 Butte fire looking towards Mountain Ranch & San Andreas from Pool Station Road

View Photos
Update at 8:20pm: Some welcome news on the Butte Fire as the number of homes destroyed has now dropped from 545 to 475; outbuildings from 356 to 343.
Cal Fire Public Information Officer Robbie Richard attributes the 70 home and 13 outbuilding decline to hands on assessments along with FEMA classifications. He explains that initially what is called a drive-by "Windshield Survey" was done by damage assessment teams. Richards says, "Why you see such a dramatic drop in the numbers is actually [that] now they are putting their hands on the structures."  Richards adds that now with FEMA on board, there are now different classification systems in place. He shares, "So, what may look like, this could have been a residence destroyed, it was actually an outbuilding or somebodies garage or shed — but ultimately the drop is good news."
Firefighters also gain more containment on the Butte Fire as it reached 82% with the acreage remaining at  70,868 acres. The number of resources went down, as well, to 2,630 fire personnel, 131 engines, 21 water tenders, 42 hand crews, 19 dozers and 3 helicopters.
Cal Fire still lists these evacuation advisories:
1) All areas and roads inside the fire perimeter.
2) All areas and roads north of Calaveritas Road, Dogtown Road, San Domingo Road, and Fullen Road.
Original Post at 7:39am: San Andreas, CA — The Butte Fire has now reached 80% containment, according to CAL Fire.
The acreage is up slightly to 70,868. The number of firefighters on scene has dropped to 3,041. There remains 190 engines, 21 water tenders, three helicopters, 86 hand crews and 25 dozers. The latest estimate is that 545 homes have been destroyed, but CAL Fire notes that the number is still being reviewed by FEMA. Firefighters are continuing to mop-up within the perimeter. There are no mandatory evacuation orders in place. The estimated containment date remains October 1st.