Nuclear Program Deal Is Not Good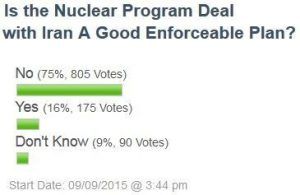 pollstats nuclear deal

View Photos
In a recent informal myMotherLode poll the question "Is the Nuclear Program Deal with Iran A Good Enforceable Plan?" The results of over 1,000 votes were 75% No, 16% Yes and 9% Don't know.
A related informal myMotherLode poll in July asked "Did pres Obama and the U.S. Make a good deal with Iran?" The results; 81 percent No, 19 percent Yes. The Poll was asked on the same day as the news story "Obama: Our Deal With Iran Makes The World Safer" here. President Obama countered points against the deal he describes as making "America and the world safer and more secure."
The 15 member United Nations Security Counsel unanimously approved the agreement that took two years to form. Obama has stated he will veto a bill to renew sanctions, but Republicans may gain enough votes to override his veto.
This Tuesday in the weekly Republican address the GOP released their view opinion in the news story "GOP: We're Fighting The Iran Nuclear Deal"
House Homeland Security Committee Chairman Michael McCaul, R-Texas, vowed to keep working to fight the Iran nuclear deal.
McCaul said "Over the last six years, Iran has defied international sanctions, completed an underground nuclear facility, and amassed a large stockpile of enriched uranium.
And now the President has struck a deal that he says will keep Iran from going nuclear.
Congress has spent several weeks reviewing this agreement and listening to the American people. It is now clear that this deal will not stop a nuclear Iran—but will instead endanger America and our allies for years to come."